Aste

Asta generale di oggetti d'arte
Il Vostro Art Agent personale
Volete acquistare un oggetto simile?
Volentieri Vi teniamo aggiornati, quando opere simili verranno offerte in una delle nostre prossime aste.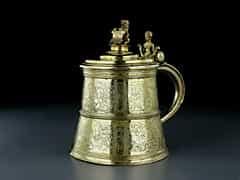 934
Früher Silberhumpen des 16. Jahrhunderts
Kleiner, vollvergoldeter Silberhumpen mit runder, sich nach oben verjüngender Wandung und Banddekor. Der obere sowie der untere Fries dekoriert mit Rundkartuschen. Darin Portraitdarstellungen. Zwischen diesen Medallions Ranken- und Blattmotive. Der Deckel ähnlich dekoriert. Als Abschluss nach oben ein Löwe, ein Schild haltend. Daumenrast in Form einer Meerjungfrau. Der Henkel kantig, innen rund gearbeitet. Auslaufend nach unten in ein kleines Kartuschenschild mit der Datierung "1584". Rep.

Höhe: 13 cm.
16. Jahrhundert. (651921)
Prezzo del catalogo € 35.000 - 42.000 Prezzo del catalogo€ 35.000 - 42.000 $ 34,650 - 41,580
£ 31,500 - 37,800
元 245,699 - 294,840
₽ 2,124,500 - 2,549,400
This object has been individually compared to the information in the Art Loss Register data bank and is not registered there as stolen or missing.
Il Vostro Art Agent personale
Volete essere informati quando nelle nostre prossime aste un'opera d'arte simile viene offerta? Attivate qui il Vostro Art Agent personale.