Il Vostro Art Agent personale
Volete acquistare un oggetto simile?
Volentieri Vi teniamo aggiornati, quando opere simili verranno offerte in una delle nostre prossime aste.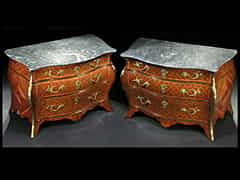 29
Bedeutendes Kommoden-Paar von Abraham Roentgen, 1711 - 1793
Nach vorn und seitlich weit ausschweifende Füße, messingbezogene Kanten. Dreischübiger Korpus mit Schüben unterschiedlicher Höhen. Die untere Schublade mit doppelter Breite wie die obere Schublade. Beide unteren Schübe nach vorn gebaucht, der oberste Schub nach innen gezogen. Gestufte Zarge mit Hängebogen. Veilchen- und Rosenholz-Furnier mit vergittertem Rautenmosaik erster Ordnung, in den Traversen mit Messing ausgezogene Kannelüren. Originale Bronzebeschläge aus der Zeit. Schlüsselschilder und Zuggriffe feuervergoldet. Die Seiten der Kommoden folgen in den Schwingungen und Wölbungen der Vorderfront. Graue, weiß gemaserte, Marmorplatten, eine davon etwas flacher und später.

Höhe: 88 cm. Breite: 128 cm. Tiefe: 69 cm.
Neuwied, Abraham Roentgen,
18. Jahrhundert, um 1755-1760

Provenienz: Deutscher Privatbesitz.

Literatur: Beide Kommoden sind in Farbe abgebildet in: Dietrich Fabian, Abraham und David Roentgen. Leben und Werk. Verzeichnis der Werke. Quellen. Internationale Akademie für Kulturwissenschaften Bad Neustadt, Saale, 1996, S. 122, Nr. 270 mit drei Abbildungen.

Anmerkung:622 Roentgenmöbel sind heute in Museen und Privatbesitz bekannt. Im Jahre 1750 begann der Aufstieg der Manufaktur. Anspruchsvolle Kunden, wie das Grafenhaus in Neuwied, der Kurfürst und Erzbischof Johann Philipp von Walderdorff. Eine quittierte Rechnung von Abraham Roentgen an Johann Caspar Goethe zeugen vom Bestand von Möbeln im Goethehaus. Auch Johann Wolfgang von Goethe gehörte zu den Kunden von Roentgen. Es wurden zunehmend Königshäuser in Europa beliefert, so auch Katharina die Große von Rußland, Roentgens wichtigste Kundin. Weitere Kunden waren: Kurfürst von Mainz , Friedrich der Große von Preussen, Friedrich Wilhelm II. , Graf zu Ysenburg, Graf zu Solms-Laubach, Fürst Friedrich Alexander zu Wied, Kurfürst Franz Georg von Schönburn, Fürstbischof Adam Friedrich von Seinshaim, Caroline Louise Markgräfin von Baden-Durlach, Reichsgraf Florimond Mercy d'Argenteau, Friedrich II von Hessen, Prinz von Lothringen, Marie Antoinette, König Louis XVI, Graf Alexander Stroganoff und viele andere. Museen und Sammlungen: In vielen Museen der Welt befinden sich die wenigen erhaltenen Möbel der Manufaktur Roentgen: Musée des Arts Decoratives, Paris. Victoria & Albert-Museum London. Metropolitan Museum N. Y. Bayerisches Nationalmuseum München. Louvre - Paris. Eremitage St. Petersburg. Samuel H. Kress-Collection - London. Wallace-Collection, London. Schloß Wörlitz , Schloß Charlottenburg, , Sammlung Stavros Niarchos u.v.a.
Prezzo del catalogo € 350.000 - 420.000 Prezzo del catalogo€ 350.000 - 420.000 $ 378,000 - 453,600
£ 315,000 - 378,000
元 2,611,000 - 3,133,200
₽ 29,316,000 - 35,179,200
This object has been individually compared to the information in the Art Loss Register data bank and is not registered there as stolen or missing.
Il Vostro Art Agent personale
Volete essere informati quando nelle nostre prossime aste un'opera d'arte simile viene offerta? Attivate qui il Vostro Art Agent personale.