Il Vostro Art Agent personale
Volete acquistare un oggetto simile?
Volentieri Vi teniamo aggiornati, quando opere simili verranno offerte in una delle nostre prossime aste.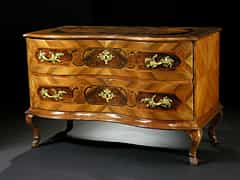 37
Deutsche Barock-Kommode
Auf kurzen, geschweiften Beinen mit Bocksfüßen der zweischübige, dopppelt geschweifte Korpus. Bandintarsien sowie verschiedene Holzfurniere. Durchbrochen gearbeitete Schlüsselschilder aus Bronze sowie asymmetrische Zuggriffe aus floralem Dekor. Schlösser und ein Schlüssel vorhanden. Die Holzplatte leicht überstehend und mit Intarsien versehen. Innerhalb der Felder Landschaft mit Bäumen und Vögeln.
Prezzo del catalogo € 11.000 - 13.000 Prezzo del catalogo€ 11.000 - 13.000 $ 11,880 - 14,040
£ 9,900 - 11,700
元 82,060 - 96,980
₽ 921,360 - 1,088,880
Höhe: 78 cm. Breite: 120 cm. Tiefe: 60 cm.
18. Jahrhundert. (6403717)
This object has been individually compared to the information in the Art Loss Register data bank and is not registered there as stolen or missing.
Il Vostro Art Agent personale
Volete essere informati quando nelle nostre prossime aste un'opera d'arte simile viene offerta? Attivate qui il Vostro Art Agent personale.