Il Vostro Art Agent personale
Volete acquistare un oggetto simile?
Volentieri Vi teniamo aggiornati, quando opere simili verranno offerte in una delle nostre prossime aste.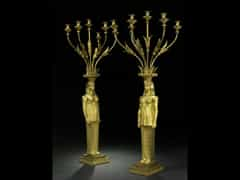 130
Paar Empire-Monumental-Karyatidengirandolen
Bronze, feuervergoldet, alternierend in Matt- und Glanzgold. Auf getrepptem Sockel mit umlaufendem Fries eine römische Armee. Die Karyatide mit Lorbeerblatt sowie Schleifen in einem Gewand nach der Antike mit einem Kopfschmuck in Form einer Sphinx. Aufgesetzt der große Korb mit Blüten- und Blattkranz sowie emporstrebende Akanthusblätter hinter denen die Leuchterarme emporragen. Mittig sind die Leuchterarme umgeben von gegeneinander gestelltem Blattwerk. Die Tüllen auf breiten Tropfschalen mit Blattmotiven ruhend. Fein punzierte und ziselierte Arbeit.
H.: 155 cm.
Frankreich, um 1800. (631685)
Prezzo del catalogo € 120.000 - 140.000 Prezzo del catalogo€ 120.000 - 140.000 $ 129,600 - 151,200
£ 108,000 - 126,000
元 895,200 - 1,044,400
₽ 10,051,200 - 11,726,400
This object has been individually compared to the information in the Art Loss Register data bank and is not registered there as stolen or missing.
Il Vostro Art Agent personale
Volete essere informati quando nelle nostre prossime aste un'opera d'arte simile viene offerta? Attivate qui il Vostro Art Agent personale.