Il Vostro Art Agent personale
Volete acquistare un oggetto simile?
Volentieri Vi teniamo aggiornati, quando opere simili verranno offerte in una delle nostre prossime aste.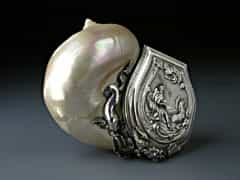 1078
Bedeutende Schneckendose mit Silbermontur
Kleine Turboschnecke mit Silbermontur. Der Deckel feinst getrieben, punziert und graviert mit der Darstellung des Neptun mit seinem Dreizack und der Krone, in seinem muschelförmigem Wagen und seinen Meerespferden, umgeben von strenger Kartusche mit Blatt- und Rocaillendekor. An der Öffnung eine längs angelegte Schnecke, die seitlich in Rocaillen ausläuft. Der Übergang zur Muschel ist dargestellt durch einen Fabelfisch in Form eines Delfins, aus dessen Nüstern Wasser speit, in eine große Muschel in Brunnenform, seitlich Grottendekor. Die Innenseite der Dose sowie der innere Rand der Montierung feuervergoldet. Kleine, französische Zollmarke. Die Schnecke an einer Stelle bestoßen.
B.: 12 cm.
Frankreich, um 1720.
(622009)
Prezzo del catalogo € 4.000 - 4.800 Prezzo del catalogo€ 4.000 - 4.800 $ 4,200 - 5,040
£ 3,600 - 4,320
元 29,320 - 35,184
₽ 264,200 - 317,040
This object has been individually compared to the information in the Art Loss Register data bank and is not registered there as stolen or missing.
Il Vostro Art Agent personale
Volete essere informati quando nelle nostre prossime aste un'opera d'arte simile viene offerta? Attivate qui il Vostro Art Agent personale.