Il Vostro Art Agent personale
Volete acquistare un oggetto simile?
Volentieri Vi teniamo aggiornati, quando opere simili verranno offerte in una delle nostre prossime aste.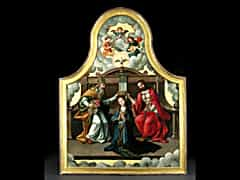 327
Flämischer Meister des 16. Jhdts.
DIE KRÖNUNG MARIENS
Rechteckiges Bild nach oben in große Bogung aus-laufend. Darin die Darstellung von Engeln mit Musik-instrumenten sowie des Heiligen Geistes, darunter die großzügige Darstellung der Krönung über Wolken.
Öl/Holz. 165 x 125 cm.
Anmerkung:
Auf der Rückseite Reste einer Malerei aus der gleichen Zeit mit verschiedenen Szenen aus dem Alten Testament. (621926)
Prezzo del catalogo € 15.000 - 18.000 Prezzo del catalogo€ 15.000 - 18.000 $ 16,350 - 19,620
£ 13,500 - 16,200
元 118,650 - 142,380
₽ 1,424,250 - 1,709,100
This object has been individually compared to the information in the Art Loss Register data bank and is not registered there as stolen or missing.
Il Vostro Art Agent personale
Volete essere informati quando nelle nostre prossime aste un'opera d'arte simile viene offerta? Attivate qui il Vostro Art Agent personale.