Il Vostro Art Agent personale
Volete acquistare un oggetto simile?
Volentieri Vi teniamo aggiornati, quando opere simili verranno offerte in una delle nostre prossime aste.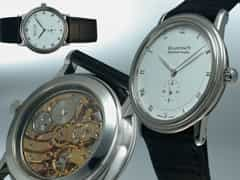 935
Blancpain
Herrenarmbanduhr

Minutenrepetition, Schlagwerk mit 2 Tonfedern Nummer der Uhr: 29
Ref. 0033-3427-55
Beiliegend Präsentationsbox, zugehöriger Schachtel, abgestempelte Garantiepapiere.
Schweiz vor 1989.
Prezzo del catalogo € 30.000 - 36.000 Prezzo del catalogo€ 30.000 - 36.000 $ 29,700 - 35,640
£ 27,000 - 32,400
元 210,600 - 252,719
₽ 1,821,000 - 2,185,200
Werk
16-steiniges Werk. Glucydur-Unruh mit Breguet-Spirale. Manueller Aufzug. Stoßsicherung. Schlagwerk mit 11 Steinen und zwei Tonfedern. Schlagwerkauslösung mit Schieber und Alles-oder-Nichts-Sicherung.

Funktionen
Stunde, Minute, Sekunde.

Gehäuse
18 Karat Weißgold. Saphirglas und Saphirglas-Boden.
Zifferblatt
Metallzifferblatt weiß mit römischen Ziffern in Weißgold und kleiner Sekunde. Weißgold-Zeiger. Signiert: "Blancpain" und bezeichnet: "Repetition minutes. Swiss Made".

Band
Reptillederband.

Zustand
Sehr gut. Neuwertig.

Anmerkung
Herstellungszeit einer Uhr: 3 Monate.
Sie wurde vom Meister Charles André Piguet hergestellt. Lieferzeit über 3 Jahre.
(612491)
This object has been individually compared to the information in the Art Loss Register data bank and is not registered there as stolen or missing.
Il Vostro Art Agent personale
Volete essere informati quando nelle nostre prossime aste un'opera d'arte simile viene offerta? Attivate qui il Vostro Art Agent personale.