Aste

Aste dicembre parte I.
Il Vostro Art Agent personale
Volete acquistare un oggetto simile?
Volentieri Vi teniamo aggiornati, quando opere simili verranno offerte in una delle nostre prossime aste.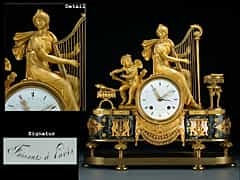 155
Bedeutende Kaminuhr von Saisant à Parismit Datumsangabe
Auf gequetschten, feuervergoldeten Kugelfüssen stehende Unterplatte, die das Uhrengehäuse mit Marmorsockel trägt. Der Marmorsockel in Vertiefungen mit feinsten durchbrochen gearbeiteten feuer- und mattvergoldeten Sphingen mit Lyradarstellungen dekoriert. Ringsum der Marmor belegt mit außergewöhnlich schönen und perfekt gearbeiteten Glanz- und Mattgold dekorierten Maskaronen-, Rosetten- und Palmettendekoren. Auf der Uhr die Darstellung von Armor und der Lyra spielenden Venus in Gewand der Zeit um 1800. Vor Armor ein kleines Tischchen mit Draperiebehang, darauf die Fackel und der Bogen. Auf seinem Rücken trägt er den Köcher mit den Pfeilen, in seinen Händen eine Schriftrolle mit der eingravierten Inschrift Bouton de Rose. Vor der Lyra ein Beistelltischchen mit Greiffüßen sowie Quasten und eine darauf befindliche Notenrolle. Die Darstellung sehr fein erhalten und besonders elegant durch die reiche Verwendung von alterierendem Glanz- und Mattgold. Im Emailzifferblatt mit römischen und arabischen Ziffern zwei Aufzügen durchbrochen gearbeitete Zeiger Acht Tage Gehwerk, Pendel mit Fadenaufhängung, Halbstunden- und Stundenschlossscheibenschlagwerk auf Glocke (bei der hinteren Wand fehlt das Glas). Außergewöhnlich seltene Uhr mit Datumsangabe.
Prezzo del catalogo € 30.000 - 36.000 Prezzo del catalogo€ 30.000 - 36.000 $ 32,400 - 38,880
£ 27,000 - 32,400
元 223,800 - 268,560
₽ 2,512,800 - 3,015,360
H.: 50 cm. B.: 53cm. T.: 18cm
Paris um 1800. (601703)
This object has been individually compared to the information in the Art Loss Register data bank and is not registered there as stolen or missing.
Il Vostro Art Agent personale
Volete essere informati quando nelle nostre prossime aste un'opera d'arte simile viene offerta? Attivate qui il Vostro Art Agent personale.