Ricerca Max Liebermann nell'asta
Max Liebermann

giovedì, 22 settembre 2005
Il Vostro Art Agent personale
Siete interessati alle opere di Max Liebermann?
Volentieri Vi teniamo aggiornati, quando le opere di Max Liebermann verranno offerte in una delle nostre prossime aste.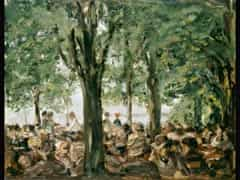 33
Max Liebermann,
1847-1935 Berlin
GARTENLOKAL AN DER HAVEL UNTER BÄUMEN (»Schildhorn«)
Prezzo del catalogo € 180.000 - 220.000 Prezzo del catalogo€ 180.000 - 220.000 $ 187,200 - 228,800
£ 162,000 - 198,000
元 1,258,200 - 1,537,800
₽ 9,774,000 - 11,946,000
Öl auf Holz
39 x 49 cm
Bez. rechts unten: M Liebermann
Werkverzeichnis Nr. 1921/34

BEERGARDEN AT THE HAVEL UNDER TREES (»Schildhorn«)

Oil on panel
15,4 x 19,3 in.
Signed lower right: M Liebermann
Catalogue raisonné n° 1921/34

Provenienz:
Sammlung Rosensaft, Montreux; Villa Grisebach, Berlin (1986); Sammlung Hans-Georg Karg (seit 1986).

Ausstellungen:
Villa Grisebach, 1. Auktion, Berlin 21. u. 22.11.1986, Nr. 82, Farbabb. Taf. 19.

Literatur:
Weltkunst, Jg. LVII, 1987, Heft 17, Abb. S. 2312; Eberle 1996, Bd. 2, S. 1041, Farbtaf. S. 1042, WV 1921/34.


Unter den dichten Kronen einiger Laubbäume drängen sich die Gäste auf den Stühlen eines Gartenlokals, links serviert ein Kellner. Im Hintergrund promenieren Spaziergänger, zwischen den Stämmen ziehen die Rückenfiguren zweier Damen den Blick des Beschauers auf das Wasser und die Segelboote. Die Datierung des Bildes orientiert sich an einer motivisch sehr verwandten Radierung, die Schiefler (Nr. 358) dem Jahr 1922 zuordnet, doch könnte es auch einige Jahre früher entstanden sein. (5906015)
This object has been individually compared to the information in the Art Loss Register data bank and is not registered there as stolen or missing.
Il Vostro Art Agent personale
Volete essere informati quando nelle nostre prossime aste un'opera di Max Liebermann viene offerta? Attivate qui il Vostro Art Agent personale.