Aste

Aste dicembre parte I.
Il Vostro Art Agent personale
Volete acquistare un oggetto simile?
Volentieri Vi teniamo aggiornati, quando opere simili verranno offerte in una delle nostre prossime aste.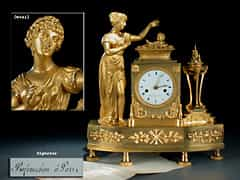 164
Französische Kaminuhr
Kaminuhr in Bronze, feuervergoldet mit Figurengruppe. Querliegender Sockel über glockenförmigen Füßen, darauf im Zentrum hochrechteckiger Sockelaufbau mit zentralem Ziffernblatt. Links seitlich junges, antikisch gekleidetes Mädchen in freudiger Überraschung, die Arme hochgenommen und einen, auf dem Uhrensockel abgestellten Korb mit Blüten und darin liegenden Amorknäblein betrachtend. Der Amorknabe zum Mädchen blickend und mit Zeigefinger auf dieses deutend (im mythologischem Sinne als baldige Liebesverheissung zu verstehen). An der rechten Seite über angetreppten Sockel antiker Dreifuß mit Bocksbeinen und Widderköpfen und aufsteigender Flamme. Frontapplikationen in Form von Pfeileköcher und Fackel an Lorbeerzweigen sowie Hörner blasende Putten mit Fischschwanz. Acht-Tage-Gehwerk, Pendel mit Fadenaufhängung (Pendel fehlt, Faden gerissen). Halbstunden- und Stundenschlossscheibenschlagwerk auf Glocke. Emailzifferblatt signiert: Bofenschen/Bofenschein Paris. H.: 38 cm. B.: 32 cm. Paris, um 1800. Literatur: Tardy S. 260. (562445)
Prezzo del catalogo € 3.500 - 4.200 Prezzo del catalogo€ 3.500 - 4.200 $ 3,640 - 4,368
£ 3,150 - 3,780
元 24,465 - 29,358
₽ 190,050 - 228,060
This object has been individually compared to the information in the Art Loss Register data bank and is not registered there as stolen or missing.
Il Vostro Art Agent personale
Volete essere informati quando nelle nostre prossime aste un'opera d'arte simile viene offerta? Attivate qui il Vostro Art Agent personale.