Il Vostro Art Agent personale
Volete acquistare un oggetto simile?
Volentieri Vi teniamo aggiornati, quando opere simili verranno offerte in una delle nostre prossime aste.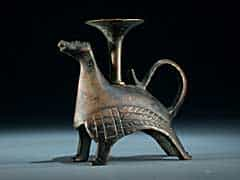 517
Drachenleuchter des 13./14. Jhdts. (Abb. links)
In Form einer stilisierten Drachen-Tierfigur. Vierbeinig, mit Gravur angedeuteten Flügeln und aufgestelltem Schwanz in Form eines Trageringes. Auf dem Rücken trompetenförmige Tülle. Bronze mit dunkler Alters-Patina, im Inneren Grünspan-Korosion. H.: 8 cm. Deutsch, 13./14. Jhdt. Literatur: Das Objekt ist zu vergleichen mit einem Leuchter im Germanischen Nationalmuseum, Nürnberg. Siehe: von Falcke/Meyer 1935, S. 105, Nr. 223, Abb. 189, mit einem Leuchter im Museum, Lund/Schweden (von Falcke/Meyer 1935, S.105, Nr. 224, Abb. 190), sowie mit einem Leuchter im Rijksmuseum/Amsterdam (Kupfer- und Bronzekatalog der Sammlung, 1. Teil, S.71, Nr. 93 mit Abb.). (532462)
Prezzo del catalogo € 6.000 - 7.200 Prezzo del catalogo€ 6.000 - 7.200 $ 6,300 - 7,560
£ 5,400 - 6,480
元 43,980 - 52,776
₽ 396,300 - 475,560
This object has been individually compared to the information in the Art Loss Register data bank and is not registered there as stolen or missing.
Il Vostro Art Agent personale
Volete essere informati quando nelle nostre prossime aste un'opera d'arte simile viene offerta? Attivate qui il Vostro Art Agent personale.