Ricerca August Seidel nell'asta
Aste marzo parte I.

venerdì, 28 marzo 2003
Il Vostro Art Agent personale
Siete interessati alle opere di August Seidel?
Volentieri Vi teniamo aggiornati, quando le opere di August Seidel verranno offerte in una delle nostre prossime aste.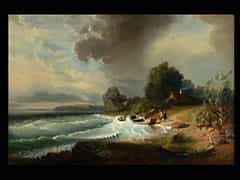 250
August Seidel 1820 München - 1904
Schüler von Rottmann, Maler der Münchner Schule WELLENGANG AM UFER DES STARNBERGER SEES Blick vom nordöstlichen Uferbereich des Sees mit rechts ansteigendem Hügel, einer Karte sowie zwei Männern vor am Ufer liegenden Kähnen. Im Hintergrund das Schloss Starnberg im Sonnenlicht, oberhalb der Szene Regenwolken. Bei dem Gemälde handelt es sich sicher um ein früheres Werk des Malers das noch in der Dramatik der Auffassung dem romantischen Stil des Lehrers Rottmann verpflichtet ist. Öl/Lwd. Rechts unten signiert. 48 x 73 cm. Doubliert. (441622)
Prezzo del catalogo € 3.500 - 4.200 Prezzo del catalogo€ 3.500 - 4.200 $ 3,675 - 4,410
£ 3,150 - 3,780
元 26,880 - 32,256
₽ 356,790 - 428,148
This object has been individually compared to the information in the Art Loss Register data bank and is not registered there as stolen or missing.
Il Vostro Art Agent personale
Volete essere informati quando nelle nostre prossime aste un'opera di August Seidel viene offerta? Attivate qui il Vostro Art Agent personale.