Aste

Aste dicembre parte II.
Il Vostro Art Agent personale
Volete acquistare un oggetto simile?
Volentieri Vi teniamo aggiornati, quando opere simili verranno offerte in una delle nostre prossime aste.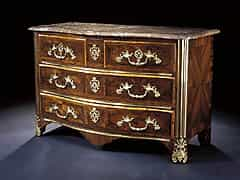 1559
Höfische französische Kommode
In Palisander- und Rosenholz furniert mit brauner Marmorplatte. Die Seiten gerade, die Ecken abgerundet und kanneliert, die Front in einem duchgehenden Schwung zur Mitte hin leicht konvex vortretend. In der dreischübigen Front ist die obere Schubzone gestaltungsgleich mit den Kassetten darunter in zwei Schübe geteilt mit dazwischen liegendem blindem Schloßbeschlag, unter Abschluss durch Stollfüße, die unterhalb der Eckkannelierung durch gedrückte Messingbänder mit einem reichen Beschlag besetzt sind. Horizontaler unterer Abschluss durch ein Kannelurband, ebenso in gedrücktem Messing, darunter mittig eine furnierte Zunge. Reiches Beschlagwerk in aufwendigen Formen durchbrochen und mit Blüten verzierten Agraffen hängende Zugbügel mit mittlerem Nodus in Form eines Granatapfels und mit sich überschlingendem Bandwerk. Die aufwendigen und äußerst schön gestalteten Beschläge heben sich auf dem dunklen Palisander und Palisanderwurzelfurnier kontrastreich ab, wobei die Schübe von einem helleren Rosenholzband eingefasst werden und den Hell-Dunkel-Kontrast noch einmal betonen. Die Platte in braunem, weiß geädertem Marmor mit gerundetem Randprofil, kleinen Einschweifungen im Mittelteil und an den Ecken. Die weit herabgeführten Eisenschlösser erhalten. H.: 83 cm. B.: 130 cm. T.: 65 cm. Frankreich, um 1720/30. (401135)
Prezzo del catalogo € 15.000 - 18.000 Prezzo del catalogo€ 15.000 - 18.000 $ 14,850 - 17,820
£ 13,500 - 16,200
元 105,300 - 126,359
₽ 910,500 - 1,092,600
This object has been individually compared to the information in the Art Loss Register data bank and is not registered there as stolen or missing.
Il Vostro Art Agent personale
Volete essere informati quando nelle nostre prossime aste un'opera d'arte simile viene offerta? Attivate qui il Vostro Art Agent personale.