Aste

Aste dicembre parte II.
Il Vostro Art Agent personale
Volete acquistare un oggetto simile?
Volentieri Vi teniamo aggiornati, quando opere simili verranno offerte in una delle nostre prossime aste.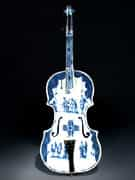 1503
In Fayence gefertige Violine
Weißglasur mit Blaubemalung, der Hals mit Metallmontierung angefügt, der Seitenhalter und die Wirbel in Ebenholz. Schnecke und Wirbelkasten zusammen mit dem Hals in Fayence. Auf dem Deckblatt zwischen den F-Löchern kreuzförmiges Blumenmedaillon, darunter mehrere Personen in Kleidung des 18. Jhdts. mit seitlichen Vorhangdraperien. Im Oberteil Musikanten an einem Tisch, Violinist, Lautenspielerin und Cellist. Die Szene ebenfalls durch Vorhänge mit Quasten überfangen. Der Geigenboden großflächig mit Zierornamentik in Regence-Stil bemalt, dazwischen schwebende geflügelte Putten mit Lorbeerzweigen. L.: 61,5 cm. Delft, 19. Jhdt. (4025589)
Prezzo del catalogo € 5.000 - 6.000 Prezzo del catalogo€ 5.000 - 6.000 $ 5,250 - 6,300
£ 4,500 - 5,400
元 36,650 - 43,980
₽ 330,250 - 396,300
This object has been individually compared to the information in the Art Loss Register data bank and is not registered there as stolen or missing.
Il Vostro Art Agent personale
Volete essere informati quando nelle nostre prossime aste un'opera d'arte simile viene offerta? Attivate qui il Vostro Art Agent personale.