Aste

Aste settembre parte II.
Il Vostro Art Agent personale
Volete acquistare un oggetto simile?
Volentieri Vi teniamo aggiornati, quando opere simili verranno offerte in una delle nostre prossime aste.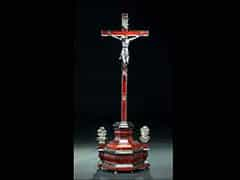 1400
Großes Standkreuz mit Corpus in Augsburger Silber vom Meister Paul Gottlob Weniger
Hohes Kreuz mit flachen Kreuzbalken mit Schildpatt belegt und eingefasst mit ebonilierten Flammleisten. Der Sockel im 5/8-Schluss nach vorne vortretend mit seitlichen, flachen Silbervasen besetzten Sockeln. Mehrfach getreppt und profiliert, jeweils mit Schildpattauflage und Flammleiste. Der Christuscorpus in Silber gegossen. Im 4-Nagel-Typus, die Beine jedoch in verkreuzter Weise wiedergegeben. Am Kreuzstamm hochovale kleine Fensteröffnung mit Reliquieneinlagen. Das INRI-Schild in rocailleartiger Umrahmung. Die Silberarbeit mit Augsburger Beschauzeichen, Jahresbuchstabe F (1820) sowie Meistermarke Paul Gottlob Weniger, Buchstabenstempel: PGW. H.: 120 cm. B.: 40 cm. Augusburg, um 1820. (382331)
Prezzo del catalogo € 7.000 - 8.400 Prezzo del catalogo€ 7.000 - 8.400 $ 7,350 - 8,820
£ 6,300 - 7,560
元 51,310 - 61,572
₽ 462,350 - 554,820
This object has been individually compared to the information in the Art Loss Register data bank and is not registered there as stolen or missing.
Il Vostro Art Agent personale
Volete essere informati quando nelle nostre prossime aste un'opera d'arte simile viene offerta? Attivate qui il Vostro Art Agent personale.