Ricerca Andreas Schelfhout nell'asta
Aste settembre parte II.

venerdì, 20 settembre 2002
Il Vostro Art Agent personale
Siete interessati alle opere di Andreas Schelfhout?
Volentieri Vi teniamo aggiornati, quando le opere di Andreas Schelfhout verranno offerte in una delle nostre prossime aste.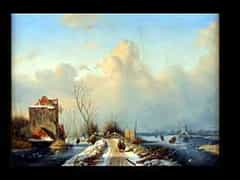 1358
Andreas Schelfhout 1787 Den Haag - 1870 ebenda
HOLLÄNDISCHE WINTERLANDSCHAFT MIT EINER DEICHMOLE Weite Winterlandschaft mit hohem Wolkenhimmel. Links ein Gebäude am Kanal auf dem ein Schlittschuhläufer fährt. In der Mitte der verschneite Weg über eine Deichmole. Rechts weitere Eisfläche mit Schlittschuhläufern. Im Hintergrund eine Windmühle. Stimmungsvolle Lichtwiedergabe eines sonnigen Spätnachmittags mit wirkungsvoller Schattenbildung. Der Reiz der Farbgebung liegt vor allem auch im Kontrast zwischen den kalt blau wiedergegebenen Eisflächen, sowie dem blauen Himmel und im Gegensatz dazu dem warmen Ton der von der Sonne beschienenen Partien. Links unten signiert und datiert 1850. Doubliert. Öl/Lwd. 52 x 68 cm. (382021)
Prezzo del catalogo € 25.000 - 30.000 Prezzo del catalogo€ 25.000 - 30.000 $ 26,250 - 31,500
£ 22,500 - 27,000
元 183,250 - 219,900
₽ 1,651,250 - 1,981,500
This object has been individually compared to the information in the Art Loss Register data bank and is not registered there as stolen or missing.
Il Vostro Art Agent personale
Volete essere informati quando nelle nostre prossime aste un'opera di Andreas Schelfhout viene offerta? Attivate qui il Vostro Art Agent personale.