Aste

Aste dicembre parte I.
Il Vostro Art Agent personale
Volete acquistare un oggetto simile?
Volentieri Vi teniamo aggiornati, quando opere simili verranno offerte in una delle nostre prossime aste.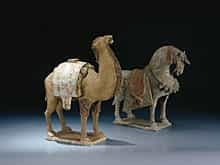 351
Kamel der Qui-Dynastie (Wei)
Gebrannter Ton mit Resten von Kaltbemalung. Bläuliche Satteldecke. Schweif vorhanden. H.: 34 cm. L.: 27 cm. China, nördliche Qui-Dynastie 550 - 577 n. Chr. Anmerkung.: Zu diesem Objekt liegen zwei Thermolumineszenz-Gutachten mit wissenschaftlicher Ausarbeitung und Kurvenverläufen vor. Weiterhin wurde ein Gutachten zum Bindemittel-Test erstellt. Dieser stammt von der Fachhochschule Kobelnz, Fachbereich Keramik. Lichtmikroskopische Aufnahmen, chemische Analyse, Diagramm mit TG- und DTA- sowie erhitzungsmikroskopischer Aufnahmen, die im Gutachten erläutert sind und die Echtheit bestätigen. Diese Test schließen ein Remodeling aus. Literatur: Nationalmuseum der chinesischen Geschichte, Band 2, Periode der streitenden Reiche, Peking 1997, Seite 277, Abb. 319. (970310)
Prezzo del catalogo € 18.000 - 22.000 Prezzo del catalogo€ 18.000 - 22.000 $ 19,440 - 23,760
£ 16,200 - 19,800
元 134,280 - 164,120
₽ 1,507,680 - 1,842,720
This object has been individually compared to the information in the Art Loss Register data bank and is not registered there as stolen or missing.
Il Vostro Art Agent personale
Volete essere informati quando nelle nostre prossime aste un'opera d'arte simile viene offerta? Attivate qui il Vostro Art Agent personale.