Ricerca Cornelis Raaphorst nell'asta
Impressionisti, Dipinti XIX secolo & Arte moderna

giovedì, 6 dicembre 2018
Il Vostro Art Agent personale
Siete interessati alle opere di Cornelis Raaphorst?
Volentieri Vi teniamo aggiornati, quando le opere di Cornelis Raaphorst verranno offerte in una delle nostre prossime aste.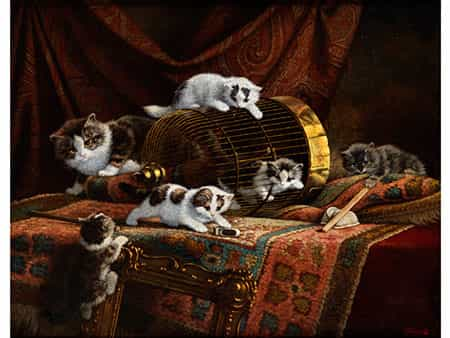 461
Cornelis Raaphorst,
1875 Nieuwkoop – 1954 Wassenaar
DER UMGEKIPPTE VOGELBAUER Öl auf Leinwand.
81 x 101 cm.
Rechts unten signiert.
Prezzo del catalogo € 16.000 - 18.000 Prezzo del catalogo€ 16.000 - 18.000 $ 17,440 - 19,620
£ 14,400 - 16,200
元 126,560 - 142,380
₽ 1,519,200 - 1,709,100
Auf einem mit einem Teppich bedeckten Tisch ist ein Vogelbauer umgeworfen worden. Maßgebliche Schuld daran tragen die fünf Katzenjunge, welche von dem älterlichen Aufsichtspersonal argwöhnisch beäugt werden. Diese finden sich teils in, teils auf dem Käfig wieder und machen sich über die sich ehemals in dem Käfig befindlichen Gegenständen her. Ein vormals in dem Käfig befindlicher Vogel ist nicht mehr auszumachen. Rahmeninnenleiste leicht besch. (1170611) (2) (13


Cornelis Raaphorst,
1875 Nieuwkoop – 1954 Wassenaar

THE OVERTURNED BIRD CAGE

Oil on canvas.
81 x 101 cm.
Signed lower right.

Inside frame moulding slightly damaged.

This object has been individually compared to the information in the Art Loss Register data bank and is not registered there as stolen or missing.
Il Vostro Art Agent personale
Volete essere informati quando nelle nostre prossime aste un'opera di Cornelis Raaphorst viene offerta? Attivate qui il Vostro Art Agent personale.