Ricerca Frans Wouters nell'asta
Dipinti del XV - XVIII secolo

giovedì, 12 aprile 2018
Il Vostro Art Agent personale
Siete interessati alle opere di Frans Wouters?
Volentieri Vi teniamo aggiornati, quando le opere di Frans Wouters verranno offerte in una delle nostre prossime aste.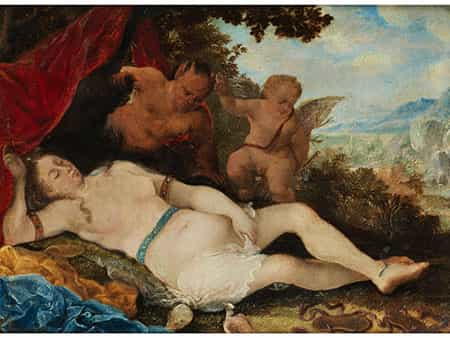 1268
Frans Wouters,
1612/14 Lier – 1659 Antwerpen, zug.
SATYR UND NYMPHE Öl auf Kupfer.
20 x 27 cm.
Verso auf der Platte alte Auktionsnummer.
Prezzo del catalogo € 20.000 - 40.000 Prezzo del catalogo€ 20.000 - 40.000 $ 21,600 - 43,200
£ 18,000 - 36,000
元 149,200 - 298,400
₽ 1,675,200 - 3,350,400
In einer arkadischen Hügellandschaft hat sich eine Nymphe zur Ruhe begeben und schläft zu Füßen eines Baumes. Ihr nackter Körper wird im Schlaf lediglich von einem semitransparenten Tuch um Oberschenkel und Scham bedeckt. Ein blauer Gürtel ist um die Taille befestigt, mit rubinroten Steinen geschmückte Armreifen zieren die Oberarme. Begleitet von einem kleinen Amor entdeckt ein Faun, das Sinnbild des Lüsternen, Unbeherrschten, die schlafende Schönheit. Es ist dieser reizvolle Gegensatz, der den unwiderstehlichen Charme diese kleinformatigen, für private Kammern gedachten Gemäldes ausmacht.
Wouters, ein Schüler Peeter van Avonts (1600-1652) und Werkstattmitarbeiter des großen Peter Paul Rubens (1577-1640), dem das Bild zugeschrieben ist, übersetzt hier den Stil eines großformatigen Bildes des großen Barock-Meisters Rubens in das kleine Format eines Kabinettstückes, wie Michela Bacchi treffend in ihrem Katalogbeitrag beschreibt.

Literatur:
Abgebildet in Ausstellungskatalog Galleria San Marino, Corpo, Amore e Sentimento, a cura di Alessandro Marchi, San Marino, 27.07-18.09.2011, S. 44f. (11312519) (6) (12)


Frans Wouters,
1612 Lier – 1659 Antwerp, attributed

SATYR AND NYMPH

20 x 27 cm.
Old auction number on panel on reverse.

Literature:
Illustrated in A. Marchi (ed.), Corpo, Amore e Sentimento , exhibition catalogue, Galleria San Marino, San Marino, 27 July - 18 September 2011, pp. 44f.
This object has been individually compared to the information in the Art Loss Register data bank and is not registered there as stolen or missing.
Il Vostro Art Agent personale
Volete essere informati quando nelle nostre prossime aste un'opera di Frans Wouters viene offerta? Attivate qui il Vostro Art Agent personale.