Ricerca Stanislas Lépine nell'asta
Impressionismo e Arte moderna

giovedì, 28 settembre 2017
Il Vostro Art Agent personale
Siete interessati alle opere di Stanislas Lépine?
Volentieri Vi teniamo aggiornati, quando le opere di Stanislas Lépine verranno offerte in una delle nostre prossime aste.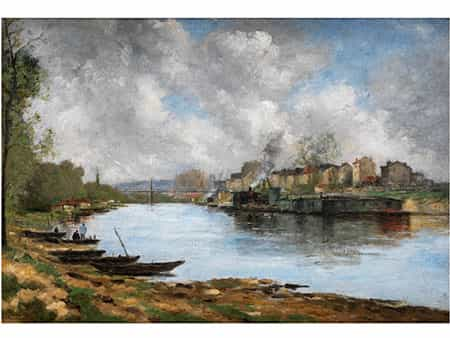 619
Stanislas Lépine,
1835 Caen – 1892 Paris
BLICK AUF DIE SEINE Öl auf Leinwand.
46 x 65 cm.
Rechts unten signiert.
Prezzo del catalogo € 10.000 - 15.000 Prezzo del catalogo€ 10.000 - 15.000 $ 10,800 - 16,200
£ 9,000 - 13,500
元 74,600 - 111,900
₽ 837,600 - 1,256,400
Am Ufer eines sich sanft in die Tiefe schlängelnden Flusses sind auf der linken Seite an der seichten Böschung einige Boote sowie Menschen zu sehen. Der Perspektive folgend, sind weiter hinten am linken Ufer sich in die Tiefe staffelnde Gebäude dargestellt. Die rechte Uferseite dominiert eine Stadt, die sich im Wasser wiederspiegelt, darüber spannt sich ein weiter wolkenverhangener Himmel, der vom hoch aufragenden Baum am linken Bildrand aufgefangen wird. Insgesamt wird die Komposition dominiert von Waagrechten, die in den Gebäuden, im Baum und im Pfeiler im Wasser ein leichtes Gegengewicht in der Vertikalen erfahren, sodass ein ruhiges rhythmisches Gerüst gebildet wird. (11205616) (12)


Stanislas Lépine,
1835 Caen – 1892 Paris
VIEW OF THE SEINEOil on canvas.
46 x 65 cm.
Signed lower right.
This object has been individually compared to the information in the Art Loss Register data bank and is not registered there as stolen or missing.
Il Vostro Art Agent personale
Volete essere informati quando nelle nostre prossime aste un'opera di Stanislas Lépine viene offerta? Attivate qui il Vostro Art Agent personale.