Aste

Sculture e oggetti d'artigianato artistico
Il Vostro Art Agent personale
Volete acquistare un oggetto simile?
Volentieri Vi teniamo aggiornati, quando opere simili verranno offerte in una delle nostre prossime aste.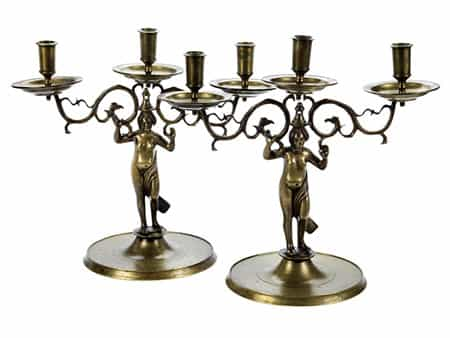 107
Paar Messingtischleuchter
Höhe: 37 cm.
Breite: 40 cm.
Fußdurchmesser: 21 cm.
Anfang 17. Jahrhundert.
Prezzo del catalogo € 3.500 - 5.000 Prezzo del catalogo€ 3.500 - 5.000 $ 3,675 - 5,250
£ 3,150 - 4,500
元 26,880 - 38,400
₽ 356,790 - 509,700
Jeweils dreiflammig. Schaft in Gestalt einer nackten weiblichen Figur mit langem Haar, das über Rücken und Unterkörper zieht, zwischen den Beinen nach rückwärts geführt wird und seitlich ausschwingt. Figur auf großem tellerförmigem Standfuß. Über dem Kopf zu beiden Seiten, S-förmig ausschwingende Kerzenarme mit Vogelkopf- und Blattmotiven, befestigt durch zentrale konische Verschraubung. Mittlere Tülle etwas erhöht, die Tüllen zylinderförmig auf weiten Tropfschalen. (1121452) (2) (11)
This object has been individually compared to the information in the Art Loss Register data bank and is not registered there as stolen or missing.
Il Vostro Art Agent personale
Volete essere informati quando nelle nostre prossime aste un'opera d'arte simile viene offerta? Attivate qui il Vostro Art Agent personale.