Ricerca Camille Jean-Baptiste Corot nell'asta
Impressionismo e Arte moderna

giovedì, 28 settembre 2017
Il Vostro Art Agent personale
Siete interessati alle opere di Camille Jean-Baptiste Corot?
Volentieri Vi teniamo aggiornati, quando le opere di Camille Jean-Baptiste Corot verranno offerte in una delle nostre prossime aste.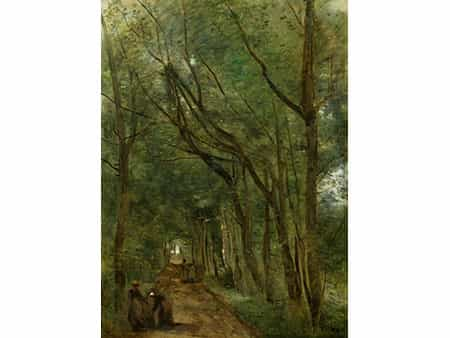 616
Camille Jean-Baptiste Corot,
1796 Paris – 1875
COUBRON, UM 1870-73 Öl auf Leinwand.
55 x 40 cm.
Rechts unten signiert.
Prezzo del catalogo € 180.000 - 220.000 Prezzo del catalogo€ 180.000 - 220.000 $ 187,200 - 228,800
£ 162,000 - 198,000
元 1,258,200 - 1,537,800
₽ 9,774,000 - 11,946,000
Zertifikat von Lebeau & Dieterle.

Die Personen, die auf dem Allee-Weg wandeln, scheinen sich fast in einem architektonischen Gebilde zu bewegen, so sehr ist die Landscahft hier konstruiert. Die Wahl des Hochformats verstärkt den sehr geschlossenen Eindruck. Die Stämme der Bäume, die den Weg säumen, gleichen Säulen, die die Wölbung einer pflanzlichen Kathedrale bilden. Die Äste bilden die Kreuzgrate. Der einzelne Baum auf der linken Seite des Weges scheint der tragende Pfeiler der Konstruktion zu sein. Leicht dezentral nach links versetzt konkurriert der Weg mit der Baumreihe um die Aufmerksamkeit des Betrachters. Die fast anekdotisch positionierten Personen dienen als Maßsstab. Der durch die Äste aufblitzende Himmel ist auch am Ende des "Gewölbes" zu sehen – als winziger Punkt, aber dennoch wichtig, um dem Bild einen Fluchtpunkt zu geben.
Corot zählt zu den bedeutendsten Landschaftsmalern des 19. Jahrhunderts. Obwohl ihm zunächst eine Kaufmannskarriere angedacht war, trat er mit 26 Jahren in das Atelier von Achille Etna Michallon (1796-1822) ein. Von ihm lernte er die Prinzipien der klassizistischen Landschaftsmalerei und wurde in der Pleinair-Malerei bestärkt. Aus seinen zahlreichen Reisen durch Italien brachte er Ansichten von Florenz, Rom und Tivoli zurück und bereiste anschließend Frankreich. Das vorliegende Werk gehört in das Spätwerk des Künstlers. Dieser zog sich, vermögend geworden, 1874 nach Coubron zurück, wo auch das vorliegende Werk entstand. †

Literatur:
Abgebildet in André Schoeller, Jean Dieterle, L'œuvre de Corot, 2. Supplement. (1120633) (10)


Jean-Baptiste Camille Corot,
1796 Paris - 1875

COUBRON, ca. 1870-73

Oil on canvas.
55 x 40 cm.
Signed lower right.

Certificate of Lebeau & Dieterle.

The figures strolling on the boulevard almost seem to be walking inside an architectural edifice as the landscape appears to be constructed as such. The portrait format reinforces this very closed impression. The tree trunks lining the road are like columns forming the vault for a botanical cathedral. Corot is one of the most important landscape painters of the 19th century. He brought back vistas from Florence, Rome and Tivoli from his numerous travels through Italy and then went on to travel through France. The painting on offer for sale in this lot is a late work by Corot. In 1874, after having acquired some wealth he retired to the country, to Coubron where the present work was created. †

Literature:
Illustrated in the 2nd Supplement of André Schoeller, Jean Dieterle, L'oeuvre de Corot.
This object has been individually compared to the information in the Art Loss Register data bank and is not registered there as stolen or missing.
Il Vostro Art Agent personale
Volete essere informati quando nelle nostre prossime aste un'opera di Camille Jean-Baptiste Corot viene offerta? Attivate qui il Vostro Art Agent personale.