Ricerca Jacob Akkersdyk nell'asta
Dipinti XIX / XX secolo

giovedì, 28 settembre 2017
Il Vostro Art Agent personale
Siete interessati alle opere di Jacob Akkersdyk?
Volentieri Vi teniamo aggiornati, quando le opere di Jacob Akkersdyk verranno offerte in una delle nostre prossime aste.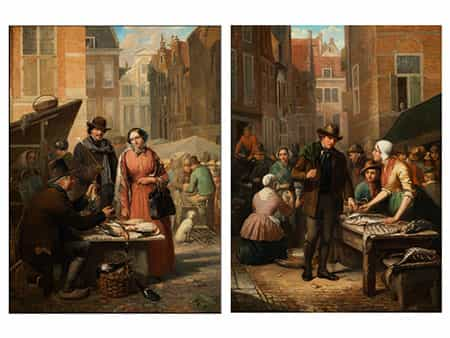 397
Jacob Akkersdyk,
1815 – 1862
GemäldepaarAUF DEM MARKT Öl auf Leinwand.
63 x 48,3 cm.
Jeweils links unten signiert.
Ein Rahmen mit Klebeetikett "WC.H. Ayre Collection Nr. 7".

Die hochformatigen Gemälde jeweils eine Szene mit Fischverkäuferin sowie eine mit einem Geflügelverkäufer darstellend, auf einem eng von Häusern umstellten Marktplatz einer holländischen Stadt. Im Fokus liegt dabei jeweils der Käufer bzw. die Käuferin und der Verkäufer bzw. die Verkäuferin, die umstellt sind von weiterem regen Treiben. (1121371) (12)
Prezzo del catalogo € 10.000 - 15.000 Prezzo del catalogo€ 10.000 - 15.000 $ 10,500 - 15,750
£ 9,000 - 13,500
元 76,800 - 115,200
₽ 1,019,400 - 1,529,100
Jacob Akkersdijk,
1815 – 1862

A pair of paintings
ON THE MARKET

Oil on canvas.
63 x 48.3 cm.
Each signed lower left. Adhesive label on one frame inscribed "WC.H. Ayre Collection Nr. 7".
This object has been individually compared to the information in the Art Loss Register data bank and is not registered there as stolen or missing.
Il Vostro Art Agent personale
Volete essere informati quando nelle nostre prossime aste un'opera di Jacob Akkersdyk viene offerta? Attivate qui il Vostro Art Agent personale.