Aste

Dipinti XVI - XVIII secolo
Il Vostro Art Agent personale
Volete acquistare un oggetto simile?
Volentieri Vi teniamo aggiornati, quando opere simili verranno offerte in una delle nostre prossime aste.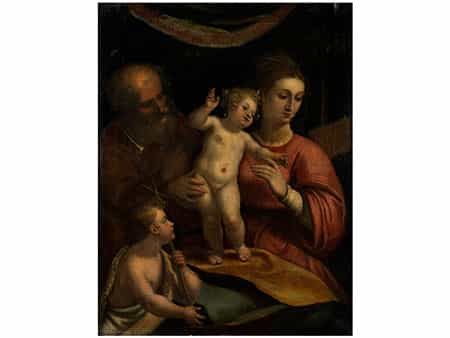 234
Italienischer Maler des 16. Jahrhunderts
DIE HEILIGE FAMILIE Öl auf Leinwand. Doubliert.
118 x 90 cm.
Rückwärtige weiße Sammlungsnummer "13" sowie eine weitere Nummerierung in schwarzer Farbe "N. 186.".
Prezzo del catalogo € 25.000 - 35.000 Prezzo del catalogo€ 25.000 - 35.000 $ 27,000 - 37,800
£ 22,500 - 31,500
元 186,500 - 261,100
₽ 2,094,000 - 2,931,600
Retuschen verschiedenen Alters, vor allem im unterem linken Bildviertel, mit Farbausbrüchen am Rand. Kompositionell erinnert das Gemälde an Luca Cambiaso (1527-1585) und seinen Umkreis, etwa Perino del Vaga (1501-1547). Besch., rest. (1092053) (13)


Italian School,
16th century

THE HOLY FAMILY

Oil on canvas. Relined.
118 x 90 cm.
Collection no. "13" and number "N.186" inscribed on the reverse.

Retouching at different times, especially in the lower left quarter of the painting with blemishes to the paint layer along the edges. The composition of the painting is similar to works by Luca Cambiaso and his circle, such as Perino del Vaga. Damaged, restored.
This object has been individually compared to the information in the Art Loss Register data bank and is not registered there as stolen or missing.
Il Vostro Art Agent personale
Volete essere informati quando nelle nostre prossime aste un'opera d'arte simile viene offerta? Attivate qui il Vostro Art Agent personale.