Aste

Dipinti XVI - XVIII secolo
Il Vostro Art Agent personale
Volete acquistare un oggetto simile?
Volentieri Vi teniamo aggiornati, quando opere simili verranno offerte in una delle nostre prossime aste.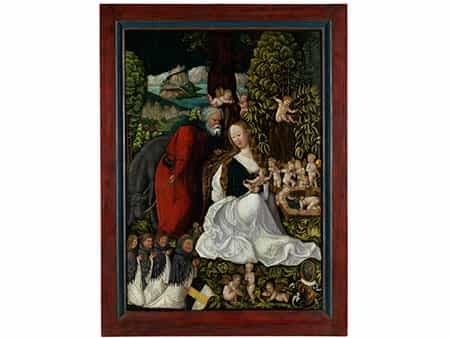 233
Meister der Donauschule,
um 1510/ 15
STIFTERBILD MIT DARSTELLUNG DER RUHE AUF DER
FLUCHT NACH ÄGYPTEN Öl/ Tempera auf Nadelholz.
88 x 61 cm.
Prezzo del catalogo € 30.000 - 40.000 Prezzo del catalogo€ 30.000 - 40.000 $ 31,500 - 42,000
£ 27,000 - 36,000
元 230,400 - 307,200
₽ 3,058,200 - 4,077,600
Die Holztafel zeigt das biblische Thema mit Einbeziehung von vier geistlichen Stifterfiguren in der linken unteren Ecke sowie mehreren tanzenden und spielenden geflügelten Putti im unteren Teil des Bildes sowie am rechten Bildrand um einen Brunnen gruppiert. Im Zentrum der Darstellung die weiß gekleidete sitzende Maria, das Kind in den Armen, links der Heilige Josef, weißhaarig und bärtig in rotem Mantel. An einem Strick hält er den Esel, der mit gesenktem Kopf grast. Die geistlichen Stifterfiguren links unten in weißem Ordenskleid, mit dunkelgrauem Umhang. In der rechten Ecke ein Helm mit Zier mit darüber stehendem Sieb. Ungeklärt bleibt die Identifizierung einer Stadtansicht mit Türmen überhalb des Esels Rücken sowie die Ansicht einer Burg auf einer Felseninsel in einem See von Bergen umzogen. Möglicherweise haben diese Bildelemente zusammen mit der Helmzier einen Bezug zur Stiftergeschichte. Der Brunnen an der rechten Seite ist wohl als Jungbrunnen zu denken. Die beiden Hauptfiguren von einem Baumstamm hinterfangen mit seitlichem Blick in den landschaftlichen Hintergrund. Der Grundaufbau und die Grundgestaltung des Gemäldes geht auf einen Holzschnitt von Lucas Cranach (1472-1553) von 1509 zurück (Bartsch 3). Cranach hatte sich in besagtem Jahr mehrfach mit diesem Thema auseinander gesetzt und eine Reihe von Holzstichen geschaffen. (10918130) (11)


Master of the Danube School,
ca. 1510/15

THE REST ON THE FLIGHT INTO EGYPTWITH DONOR PORTRAITS

Oil/ tempera on conifer.
88 x 61 cm.

The centre of the panel shows the Bible scene of The Rest on the Flight into Egypt with the seated Virgin Mary dressed in white holding the Christ Child in her arms and the white-haired and bearded Saint Joseph on the left dressed in a red cloak. In the lower left section of the painting four clerical donors are depicted surrounded by several dancing and playing winged putti. The composition of the painting offered in this lot traces back to a woodcut by Lucas Cranach from 1509 (Bartsch 3). That year, Cranach created several woodcuts of the same topic.
This object has been individually compared to the information in the Art Loss Register data bank and is not registered there as stolen or missing.
Il Vostro Art Agent personale
Volete essere informati quando nelle nostre prossime aste un'opera d'arte simile viene offerta? Attivate qui il Vostro Art Agent personale.