Ricerca Georges Mathieu nell'asta
Arte moderna e Art déco

mercoledì, 7 dicembre 2016
Il Vostro Art Agent personale
Siete interessati alle opere di Georges Mathieu?
Volentieri Vi teniamo aggiornati, quando le opere di Georges Mathieu verranno offerte in una delle nostre prossime aste.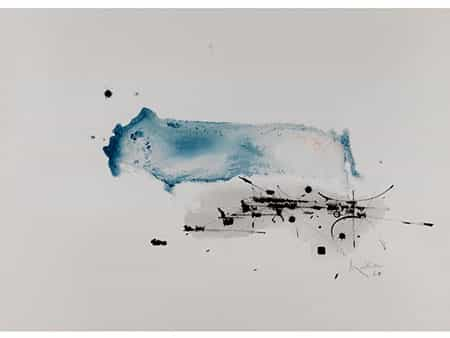 1446
Georges Mathieu,
1921 Boulogne-sur-Mer - 2012 Paris
Mathieu gehört zu den Hauptvertretern des Tachismus. Angelehnt an die japanische Kalligrafie sind seine abstrakten Werke von der Schnelligkeit des Malvorgangs geprägt. KOMPOSITION, 1960 Aquarell und Tinte auf Papier.
55 x 77 cm.
Rechts unten signiert und datiert "60".
Im Passepartout, hinter Glas gerahmt.

Beigegeben ein Zertifikat des Comité Georges Mathieu mit der Zertifikatnummer "A66007" vom 26.10.2015.
Prezzo del catalogo € 12.000 - 15.000 Prezzo del catalogo€ 12.000 - 15.000 $ 12,960 - 16,200
£ 10,800 - 13,500
元 89,520 - 111,900
₽ 1,005,120 - 1,256,400
Gerahmt beschrieben. (1081608) (12)


Georges Mathieu,
1921 Boulogne-sur-Mer - 2012 Paris
Mathieu is one of the main protagonists of Tachism. Based on Japanese calligraphy his abstract works are characterized by the speed of the act of painting.

COMPOSITION, 1960

Watercolour and ink on paper.
55 x 77 cm.
Signed and dated "60" lower right.
Framed with mount under glass.

Accompanied by a certificate of authenticity by the Comité Georges Mathieu with number "A66007" dated 26 October 2015.

Not examined out of frame.
This object has been individually compared to the information in the Art Loss Register data bank and is not registered there as stolen or missing.
Il Vostro Art Agent personale
Volete essere informati quando nelle nostre prossime aste un'opera di Georges Mathieu viene offerta? Attivate qui il Vostro Art Agent personale.