Ricerca Josef Albers nell'asta
Arte moderna e Art déco

mercoledì, 7 dicembre 2016
Il Vostro Art Agent personale
Siete interessati alle opere di Josef Albers?
Volentieri Vi teniamo aggiornati, quando le opere di Josef Albers verranno offerte in una delle nostre prossime aste.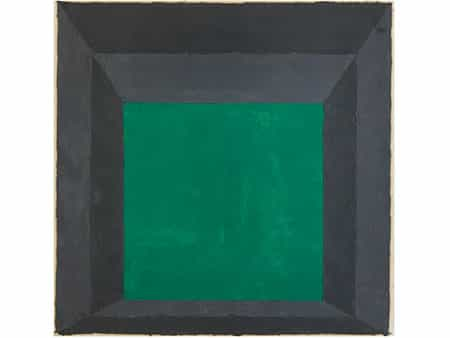 1493
Josef Albers,
1888 Bottrop - 1976 New Haven
HOMAGE TO THE SQUARE, UM 1960-65 Öl auf Karton.
29,3 x 29,3 cm.
Hinter Glas gerahmt.
Prezzo del catalogo € 40.000 - 50.000 Prezzo del catalogo€ 40.000 - 50.000 $ 41,600 - 52,000
£ 36,000 - 45,000
元 279,600 - 349,500
₽ 2,172,000 - 2,715,000
Beigegeben ein Zertifikat der Galerie Karsten Greve.

Nach seinem Studium in Berlin, Essen und München, ging Josef Albers 1920 an das Bauhaus in Weimar. Nach der Schließung des Bauhauses, wo er vor allem Entwürfe für Möbel, Glas und Metallgegenstände schuf, durch die Nationalsozialisten 1933, siedelte er in die USA über. Hier begann eine neue Phase im Schaffen Albers'.
Zur berühmtesten Serie des Künstlers gehören die Arbeiten "Hommage to the square". In ihnen verschachtelt er drei bis vier mit industriell hergestellter, ungemischter Farbe ausgefüllte Quadrate ineinander und spürt so der unterschiedlichen Wirkung ein und der selben Farbe nach. Mit dieser Werkserie gehörte er zusammen mit Victor Vasarely zu den Begründern der Op-Art und beeinflusste vor allem die jungen amerikanischen Künstler. Gerahmt beschrieben. (1081561) (12)


Josef Albers,
1888 Bottrop - 1976 New Haven

HOMAGE TO THE SQUARE, CA. 1960-65

Oil on card.
29.3 x 29.3 cm.
Framed with glass.

Accompanied by a certificate of Karsten Greve Gallery.

After studying in Berlin, Essen and Munich, Albers joined the Bauhaus in Weimar in 1920. He predominantly designed furniture, glass and metal objects for the Bauhaus and after its closure by the National Socialists in 1933 he emigrated to the United States. Here, a new phase of his work began. One of the artist's most famous series is Homage to the square. In this series he sets three to four squares inside each other each filled with factory-made, unmixed paint and thereby traces the different effects of one and the same colour. With this series Albers is, along with Victor Vasarely, one of the founding members of Op art that particularly influenced young American artists. Not examined out of frame.
This object has been individually compared to the information in the Art Loss Register data bank and is not registered there as stolen or missing.
Il Vostro Art Agent personale
Volete essere informati quando nelle nostre prossime aste un'opera di Josef Albers viene offerta? Attivate qui il Vostro Art Agent personale.