Aste

Asta di beni di lusso: Borse & valigie
Il Vostro Art Agent personale
Volete acquistare un oggetto simile?
Volentieri Vi teniamo aggiornati, quando opere simili verranno offerte in una delle nostre prossime aste.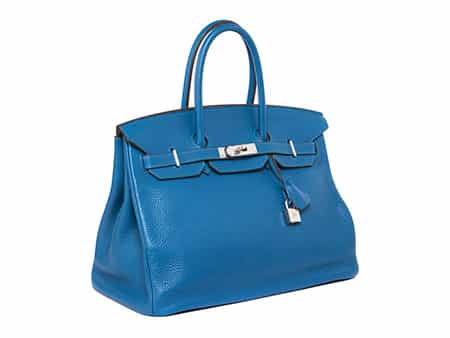 800
† Hermès Birkin Bag 35 cm "Mykonos"
Ca. 25 x 35 x 18 cm.
Prezzo del catalogo € 6.000 - 9.000 Prezzo del catalogo€ 6.000 - 9.000 $ 6,300 - 9,450
£ 5,400 - 8,100
元 43,980 - 65,970
₽ 396,300 - 594,450
Togo Lederhandtasche in Blau mit Palladiumbeschlägen. Innenraum aus Ziegenleder mit einem Reißverschluss- und einem Steckfach. Anbei Originalschloss mit Schlüsseln, Clochette und Schutzfilz. Trockenstempel vorhanden. Schutzfolie an den Beschlägen vorhanden, außer an zwei Metallfüßen. Exzellenter Zustand, sehr dezente Gebrauchssp.

Wir garantieren für die Echtheit der Handtasche. (1010452) (19)


Hermès Birkin Bag 35 cm "Mykonos"
Ca. 25 x 35 x 18 cm.

A sea blue Togo leather handbag with palladium hardware. Goatskin leather interior with one slip pocket and one zip pocket. Original lock with keys, clochette, protective felt and dust bag included. Protective film on hardware in place except on two metal feet. Blindstamp present. Excellent condition, slight sign of use.

We guarantee the authenticity of the bag.
This object has been individually compared to the information in the Art Loss Register data bank and is not registered there as stolen or missing.
Il Vostro Art Agent personale
Volete essere informati quando nelle nostre prossime aste un'opera d'arte simile viene offerta? Attivate qui il Vostro Art Agent personale.