Aste

Asta di beni di lusso
Il Vostro Art Agent personale
Volete acquistare un oggetto simile?
Volentieri Vi teniamo aggiornati, quando opere simili verranno offerte in una delle nostre prossime aste.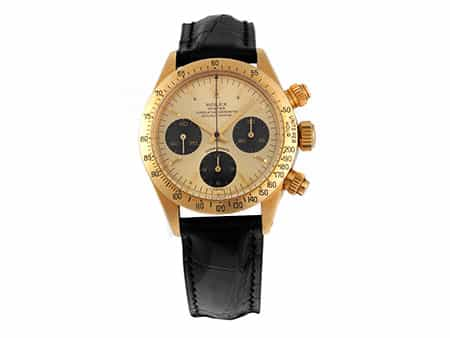 1707
ROLEX Daytona in Gold, Referenz 6265
Seltener ROLEX Oyster Cosmograph in einem verschraubten 18 kt. Gelbgoldgehäuse mit verschraubten Drückern und Lünette mit Tachymeter-Skala, Referenz 6165, Durchmesser 37 mm, mit Plexiglas. Lederarmband mit ROLEX-Stiftschließe in 18 kt. Gelbgold sowie original ROLEX Oysterband (Nr. 7205) in 18 kt. Gelbgold. Goldfarbenes Zifferblatt mit schwarzen Registern für die laufende Sekunde sowie Stopp-Minute und -Stunde. Handaufzug Valjoux Kaliber 727.
Neuwertiger Zustand, fast ungetragen! (1010771)
Prezzo del catalogo € 40.000 - 50.000 Prezzo del catalogo€ 40.000 - 50.000 $ 42,000 - 52,500
£ 36,000 - 45,000
元 293,200 - 366,500
₽ 2,642,000 - 3,302,500
ROLEX Daytona in gold, reference 6265
Rare ROLEX Oyster Cosmograph in screw back 18 ct yellow gold case with screw down buttons and bezel with tachometer scale, reference 6165, 37 mm in diameter, with acrylic glass. Leather strap with ROLEX buckle clasp in 18 ct yellow gold and original ROLEX Oyster strap (no. 7205) in 18 ct yellow gold. Gold-coloured dial with black subsidiary dials for constant seconds and minutes and hours registers. Mechanical movement Valjoux, caliber 727.
Like new condition, hardly worn!
This object has been individually compared to the information in the Art Loss Register data bank and is not registered there as stolen or missing.
Il Vostro Art Agent personale
Volete essere informati quando nelle nostre prossime aste un'opera d'arte simile viene offerta? Attivate qui il Vostro Art Agent personale.