Aste

Asta di beni di lusso
Il Vostro Art Agent personale
Volete acquistare un oggetto simile?
Volentieri Vi teniamo aggiornati, quando opere simili verranno offerte in una delle nostre prossime aste.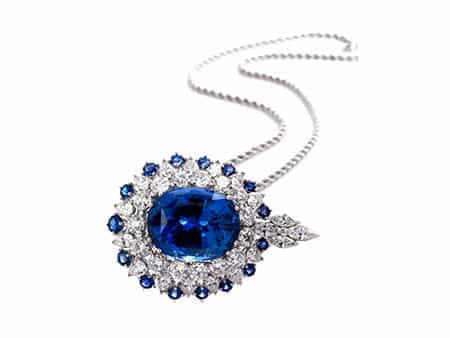 1451
Saphir-Diamantanhänger
Länge Anhänger: ca. 5 cm.
Breite: ca. 3,5 cm.
Kettenlänge: ca. 45 cm.
Gesamtgewicht: ca. 24,5 g.
WG 750.
Prezzo del catalogo € 150.000 - 180.000 Prezzo del catalogo€ 150.000 - 180.000 $ 157,500 - 189,000
£ 135,000 - 162,000
元 1,099,500 - 1,319,400
₽ 9,907,500 - 11,889,000
Prachtvoller, zeitloser Anhänger mit feinem, kornblumenblauem Saphir im ovalen Facettenschliff, 30,32 ct, sowie weiteren kleinen Saphiren, zus. ca. 2,5 ct, und Diamanten im Navette-, Brillant- und Tropfenschliff, zus. 8,93 ct. Beweglich montierte Aufhängung. Anbei: gekordelte Weißgoldkette. (1010381) (16)


Sapphire and diamond pendant
Pendant length: ca. 5 cm.
Width: ca. 3.5 cm.
Necklace length: ca. 45 cm.
Total weight: ca. 24.5 g.
18 ct white gold.

Magnificent, timeless pendant with fine cornflower blue, oval facet-cut sapphire, 30.32 ct, and further small sapphires, altogether ca. 2.5 ct, and navette-cut, brilliant-cut, and drop-cut diamonds, altogether 8.93 ct. Flexible mounting. With white gold rope chain necklace.
This object has been individually compared to the information in the Art Loss Register data bank and is not registered there as stolen or missing.
Il Vostro Art Agent personale
Volete essere informati quando nelle nostre prossime aste un'opera d'arte simile viene offerta? Attivate qui il Vostro Art Agent personale.