Aste

argenti, porcellane, vetro, scrigni & oggetti decorativi
Il Vostro Art Agent personale
Volete acquistare un oggetto simile?
Volentieri Vi teniamo aggiornati, quando opere simili verranno offerte in una delle nostre prossime aste.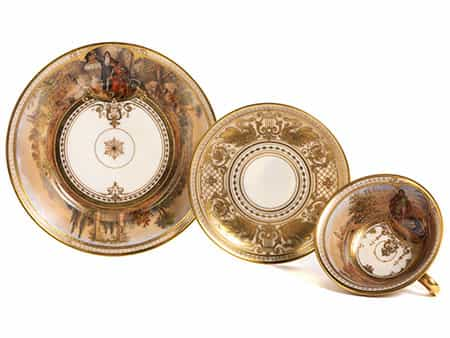 326
Dreiteiliges Kaffeegedeck
Durchmesser: max. 20 cm.
Am Boden Porzellanmarke Dresden (mit darüberstehendem Lamm) sowie Titelbezeichnung "Parsifal".
Dresden, Ende 19. Jahrhundert.
Prezzo del catalogo € 3.500 - 4.500 Prezzo del catalogo€ 3.500 - 4.500 $ 3,815 - 4,905
£ 3,150 - 4,050
元 27,685 - 35,595
₽ 332,325 - 427,275
Tasse mit Untertasse sowie Kuchenteller aus dem sogenannten Opernservice, feine Bemalung mit Motiven des Stücks "Parsifal". Im Teller Darstellung des Parsifal bei dem Eremiten, in der Fahne Fortsetzung der Landschaft, in der Tasseninnenseite mehrfiguriges Parsifal-Bildmotiv mit der Burg Salvat im Hintergrund. Tassenaußenrand, Fahne der Untertasse sowie die Einfassungen des Tellers im leichten Relief, dekoriert mit Goldmalerei mit Darstellungen von Lyra, flankiert von Schwänen sowie Gitterwerk. Die Malerei von Ambrosius Lamm (1887 - 1934). (10021828) (11)


Three-part coffee set
Diameter: max. 20 cm.
Dresden porcelain mark on base (with lamb above mark) and title inscription "Parsifal".
Dresden, end of the 19th century.
This object has been individually compared to the information in the Art Loss Register data bank and is not registered there as stolen or missing.
Il Vostro Art Agent personale
Volete essere informati quando nelle nostre prossime aste un'opera d'arte simile viene offerta? Attivate qui il Vostro Art Agent personale.