Ricerca Carl Morgenstern nell'asta
Dipinti XIX - XX secolo

mercoledì, 25 marzo 2015
Il Vostro Art Agent personale
Siete interessati alle opere di Carl Morgenstern?
Volentieri Vi teniamo aggiornati, quando le opere di Carl Morgenstern verranno offerte in una delle nostre prossime aste.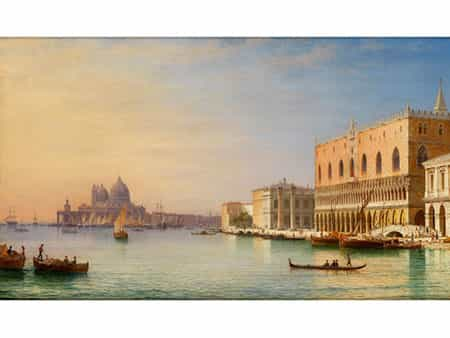 254
Carl Morgenstern,
1811 – 1893
VENEDIG MIT BLICK AUF DEN DOGENPALAST UND DIE KIRCHE SANTA MARIA DELLA SALUTE Öl auf Leinwand.
53 x 89 cm.
Rechts unten signiert und datiert "1863", mit Ortsbezeichnung Frankfurt "f frt".
Prezzo del catalogo € 120.000 - 150.000 Prezzo del catalogo€ 120.000 - 150.000 $ 126,000 - 157,500
£ 108,000 - 135,000
元 879,600 - 1,099,500
₽ 7,926,000 - 9,907,500
Carl Morgenstern war Sohn des Landschafts- und Architekturmalers Johann Friedrich Morgenstern und gehörte bereits in die vierte Generation, der ursprünglich aus Rudolstadt in Thüringen stammenden Künstlerfamilie. 25-jährig zog Carl Morgenstern 1832 nach München und wurde dort Schüler des bekannten Landschaftmalers Carl Rottmann. Wie viele der Münchner Maler zog auch er 1834 für drei Jahre nach Italien, bevor er 1837 nach Frankfurt am Main zurückkehrte und 1866 zum Professor ernannt wurde. Die Ortsbezeichnung weist darauf hin, dass das Gemälde nach Vorskizzenzeichnungen und weiteren Vorarbeiten in seiner Heimatstadt Frankfurt entstand.
Blick vom Wasser des Canal Grande in die ferne Einmündung des Kanals mit rechts im Spätlicht hell beleuchtetem Dogenpalast sowie den beiden Säulen der Stadtheiligen San Marco und San Todaro des Markusplatzes mit den nach hinten folgenden Palästen. Links die in diesigem Spätlicht stehenden Kuppeln und Türme der Kirche Santa Maria della Salute, die Schatten in leicht violetter Tönung. Im Vordergrund auf ruhigem Wasser rechts eine mit drei Personen besetzte Gondel mit Gondoliere, dahinter am Kai anliegende Segelschiffe mit eingezogenen Segeln. Links am Bildrand zwei Kähne mit Personen. Am linken Bildrand Blick aus der Lagune ins offene Meer mit mehreren, äußerst fein gemalten, sich vom Hintergrund abhebenden, größeren Segelschiffen. Der blaue Himmel zieht links in goldfarbene, diesige Wolken. Die Gebäude rechts, hell vom Spätlicht beleuchtet, spiegeln sich auf der ruhigen Wasseroberfläche. Minutiös gemalt, die Figurenstaffage auf Steintreppen und Markusplatz. (1002187) (11)


Carl Morgenstern,
1811 – 1893

VENICE WITH VIEW OF THE DOGE'S PALACE AND THE CHURCH SANTA MARIA DELLA SALUTE

Oil on canvas.
53 x 89 cm.
Signed and dated "1863" lower right and inscribed with "f frt" for Frankfurt.

Carl Morgenstern was the son of the landscape and architectural painter Johann Friedrich Morgenstern. In 1832, the 25-year old Carl Morgenstern moved to Munich and became a student of the famous landscape artist Carl Rottmann. In 1834, like many of the Munich painters, he also moved to Italy for three years before returning to Frankfurt on the Main in 1837 where he was appointed professor in 1866. The inscription indicates that the painting was created after preliminary sketches and preparatory work in his hometown Frankfurt. View from the water of the Canal Grande of the far mouth with the Doge's Palace on the right, brightly illuminated by the setting sun and both columns of San Todaro and San Marco on Saint Mark's square with the adjoining palaces in the background. To the left, the domes and towers of the church Santa Maria della Salute, illuminated by the same misty evening light, their shadows tinted slightly purple. On the left edge of the painting, view out of the lagoon towards the open sea with several, very delicately painted larger sailing ships standing out against the backdrop.
This object has been individually compared to the information in the Art Loss Register data bank and is not registered there as stolen or missing.
Il Vostro Art Agent personale
Volete essere informati quando nelle nostre prossime aste un'opera di Carl Morgenstern viene offerta? Attivate qui il Vostro Art Agent personale.