Aste

Mobili & Arredamento
Il Vostro Art Agent personale
Volete acquistare un oggetto simile?
Volentieri Vi teniamo aggiornati, quando opere simili verranno offerte in una delle nostre prossime aste.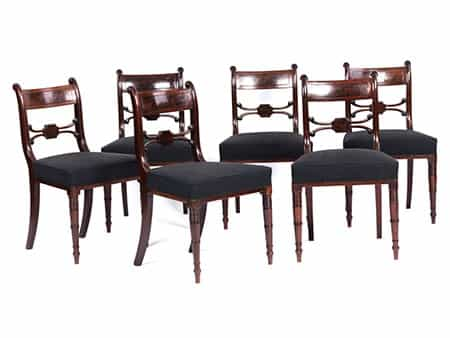 57
Satz von sechs Charles X-Stühlen
Höhe: 82,5 cm.
Breite: 48 cm.
Tiefe: ca. 50 cm.
Frankreich, 19. Jahrhundert.
Prezzo del catalogo € 1.500 - 2.500 Prezzo del catalogo€ 1.500 - 2.500 $ 1,635 - 2,725
£ 1,350 - 2,250
元 11,865 - 19,775
₽ 142,425 - 237,375
Mahagoni, geschnitzt und furniert, Aufbau in Weichholz. Die Frontbeine konisch sich nach unten verjüngend und mit Rillendekor rhythmisch gegliedert. Die rückwärtigen Beine säbelförmig, die gerade Zarge trägt die leicht trapezförmige Sitzfläche. Die Rückenlehne mit gedrehten Scheiben besetzt sowie mit einem breiten Schulterbrett und einer H-förmigen Verstrebung mit gedrehten Scheiben und zentralem, rechteckigem Feld mit eingerückten Ecken. Die Sitzfläche hochgepolstert, der Bezug später. Rest. Alters- und Gebrauchssp. (1001673) (12)

Set of six Charles X chairs
Height: 82.5 cm.
Width: 48 cm.
Depth: ca. 50 cm.
France, 19th century.

Softwood structure with carved mahogany and mahogany veneer. Seating surface with spring upholstery, cover later. Restored. Signs of age and wear.
Il Vostro Art Agent personale
Volete essere informati quando nelle nostre prossime aste un'opera d'arte simile viene offerta? Attivate qui il Vostro Art Agent personale.