Aste

Mobili & Arredamento
Il Vostro Art Agent personale
Volete acquistare un oggetto simile?
Volentieri Vi teniamo aggiornati, quando opere simili verranno offerte in una delle nostre prossime aste.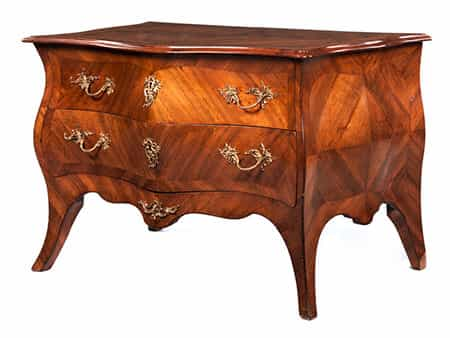 41
Rokoko-Kommode
Höhe: 84 cm.
Breite: 123 cm.
Tiefe: 70 cm.
Süddeutschland/ München, um 1750/ 60.
Prezzo del catalogo € 15.000 - 20.000 Prezzo del catalogo€ 15.000 - 20.000 $ 16,200 - 21,600
£ 13,500 - 18,000
元 111,900 - 149,200
₽ 1,256,400 - 1,675,200
Zweischübiger, leicht geschwungener und bombierter Eichenkorpus in ausgesuchtem Nussbaum furniert. Die Ecken schräg gestellt und kratig in die Beine einschwingend. Geschweifte, mittig herabgeführte Zargen. Die Schubfront mittig konvex vortretend, schwingt seitlich unter den Henkelzügen konkav aus. Die Deckplatte folgt den Schwüngen der Kommode und zieht an den Ecken betont spitz vor, durch doppelte breite Bänderung eingefasst und mit einem in Stirnholz verlegtem Profil in Buchsholz randgesäumt. Feiner vergoldeter Messingzierrat. Die Zughenkel in Form gedrehter Kordeln gefertigt an Blatt- und Blütenrosetten. Rest. Erg. Die tief herabführenden originalen Eisenschlösser erhalten. Schlüssel vorhanden. (10021823) (15)


Rococo commode
Height: 84 cm.
Width: 123 cm.
Depth: 70 cm.
South Germany/ Munich, circa 1750/ 60.

Oak structure with select walnut veneer. Select gilded brass decoration. With original iron locks and keys. Restored. Repaired with minor substitutions.
This object has been individually compared to the information in the Art Loss Register data bank and is not registered there as stolen or missing.
Il Vostro Art Agent personale
Volete essere informati quando nelle nostre prossime aste un'opera d'arte simile viene offerta? Attivate qui il Vostro Art Agent personale.