Votre assistant d'art personnel
Voulez-vous acheter un objet similaire?
Nous vous informons volontiers si des objets similaire vendus dans une de nos prochaines vente aux enchères.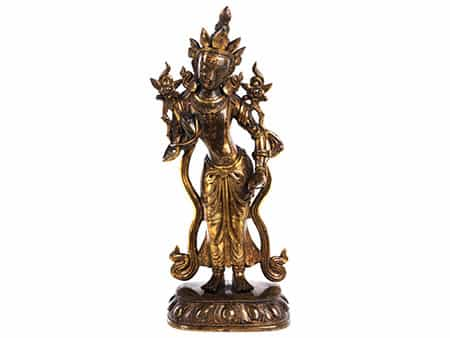 466
Bronzefigur einer Weißen Tara
Höhe: 32 cm.
Tibet, 18./ 19. Jahrhundert.
Prix de catalogue € 6.000 - 8.000 Prix de catalogue€ 6.000 - 8.000 $ 6,300 - 8,400
£ 5,400 - 7,200
元 46,080 - 61,440
₽ 611,640 - 815,520
Die in der wie hier stehenden Haltung selten vorkommende Gottheit symbolisiert die transzendentale Wahrnehmung und vollkommende Reinheit, nach religiösen Vorstellungen langes Leben und soll vor Krankheiten schützen. Wie stets ist die rechte Hand im Mudra der Freigibigkeit (Handfläche nach vorn) ausgestreckt, zugleich sind Daumen und Zeigefinger zusammengeführt als Zeichen des Dozierens. In der linken Hand hält sie den Stängel einer geöffneten Lotusblüte. Der Körper in leicht tänzelnder Bewegung wiedergegeben. Sie trägt den Schmuck eines Boddhisattvas sowie eine Blätterkrone. Standfigur auf Lotussockel. Der Sockelboden mit Kupferblech verschlossen, darauf gravierte Rosette. Kupferbronze, feuervergoldet. Die Vergoldung partiell berieben. Mit schöner Alterspatina. (981016) (11)
This object has been individually compared to the information in the Art Loss Register data bank and is not registered there as stolen or missing.
Votre assistant d'art personnel
Vous voulez être informé quand dans nos prochaines ventes aux enchères une œuvre d'art similaire sera proposée? Veuillez activer votre assistant d'art personnel.