Votre assistant d'art personnel
Voulez-vous acheter un objet similaire?
Nous vous informons volontiers si des objets similaire vendus dans une de nos prochaines vente aux enchères.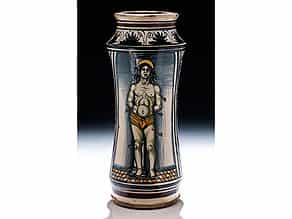 1532
Großer Majolika-Albarello mit Heiligem Sebastian
Höhe: 31,5 cm.
Durchmesser: 12 cm.
Neapel oder Pesaro, um 1480 - 1500.
Prix de catalogue € 40.000 - 60.000 Prix de catalogue€ 40.000 - 60.000 $ 43,600 - 65,400
£ 36,000 - 54,000
元 316,400 - 474,600
₽ 3,798,000 - 5,697,000
Der Albarello auf Fußring und mit hoch ziehendem Hals. Auf der Schauseite ist der Heilige Sebastian an eine Säule gefesselt dargestellt. Diese Auffassung ist äußerst ungewöhnlich, ist doch stets Christus an eine Säule gefesselt zu sehen, Sebastian an einen Baum. Die Darstellung geht möglicherweise auf einen Stich nach einem Gemälde von Antonello da Messina zurück. Gerahmt wird das Bildfeld von spätgotischem Blattwerk und geometrischen Mustern am Hals. Die Bemalung in Mangan, Gelb, Blau und Ocker vor cremefarbenem Fond.

Anmerkung:
Beiliegend eine Thermoluminiszenz-Analyse, die den Albarello auf die Zeit 1470 - 1500 datiert und möglicherweise auf die Gegend um Neapel eingrenzt. (961022)


Large Maiolica albarello with depiction of St. Sebastian
Height: 31.5 cm.
Diameter: 12 cm.
Naples or Pesaro, circa 1480 - 1500.

Note:
A thermoluminescence analysis dating the albarello between 1470 - 1500 and possibly narrowing it down to the Naples region is enclosed.
This object has been individually compared to the information in the Art Loss Register data bank and is not registered there as stolen or missing.
Votre assistant d'art personnel
Vous voulez être informé quand dans nos prochaines ventes aux enchères une œuvre d'art similaire sera proposée? Veuillez activer votre assistant d'art personnel.