Vente

Tableaux du XIX - XX siècle
Votre assistant d'art personnel
Vous êtes intéressé par des œuvres de Nicola Sanesi?
Nous vous informons volontiers si les œuvres d'art de Nicola Sanesi vendus dans une de nos prochaines vente aux enchères.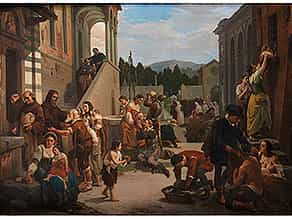 1298
Nicola Sanesi,
1818 Florenz – 1889 ebenda
DIE SIEBEN WERKE DER BARMHERZIGKEIT Öl auf Leinwand.
110 x 155 cm.
Links unten signiert, ortsbezeichnet und datiert
"N Sanesi/Firenze 1864".
Prix de catalogue € 8.000 - 10.000 Prix de catalogue€ 8.000 - 10.000 $ 8,640 - 10,800
£ 7,200 - 9,000
元 59,680 - 74,600
₽ 670,080 - 837,600
Blick in den Innenhof eines Klosters, den zahlreiche Personen bevölkern. In kleinen Personengruppen sind hier die Werke der Barmherzigkeit dargestellt. Links vor dem Klostergebäude "Hungrige speisen", "Durstige tränken" und "Fremde beherrbergen" mit einem Pilger, der um Einlass bittet. Im linken Vordergrund sitzt eine Mutter auf den Klosterstufen und pflegt ihr krankes Kind, eine weitere Tat der Barmherzigkeit. In der rechten Bildhälfte sind die Werke "Nackte kleiden" und "Gefangene besuchen" zu sehen. Im Hintergrund "Tote bestatten" mit einer Leichenprozession vor einem ummauerten Friedhof. Der Künstler hat die Szenerie in einen historischen Kontext gesetzt, indem er insbesondere die männlichen Protagonisten in der Kleidung des 17. Jahrhunderts darstellt, so die durstigen Soldaten am Brunnen im Harnisch und den Edelmann im rechten Vordergrund mit Wams und kurzem Beinkleid. Das warme Licht erzeugt eine besonders milde, stimmungsvolle Atmosphäre. Die verschatteten Partien an Friedhof, Gefängnis und den halb entblößten Personen im rechten Vordergrund verdeutlichen die besondere Härte der jeweiligen Situationen. (951851)
This object has been individually compared to the information in the Art Loss Register data bank and is not registered there as stolen or missing.
Votre assistant d'art personnel
Vous voulez être informé quand dans nos prochaines ventes aux enchères une œuvre d'art de Nicola Sanesi sera proposée? Veuillez activer votre assistant d'art personnel.