Vente

Tableaux du XIX - XX siècle
Votre assistant d'art personnel
Vous êtes intéressé par des œuvres de Albert Rieger?
Nous vous informons volontiers si les œuvres d'art de Albert Rieger vendus dans une de nos prochaines vente aux enchères.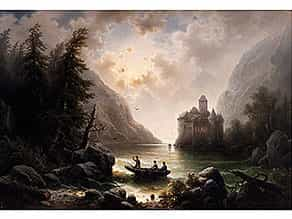 1287
Albert Rieger,
1834 Triest – 1905 Wien
MONDNACHT AM GENFER SEE Öl auf Leinwand.
110 x 170 cm.
Links unten signiert.
Prix de catalogue € 4.000 - 6.000 Prix de catalogue€ 4.000 - 6.000 $ 4,320 - 6,480
£ 3,600 - 5,400
元 29,840 - 44,760
₽ 335,040 - 502,560
Großformatige, qualitätvolle Landschaft, die den Genfer See mit Landzunge und daraufstehender Burg im Stil der Spätromantik wiedergibt. Im Vordergrund zieht das Seewasser in einer Bucht ans steinige Ufer, mit einem Kahn besetzt mit zwei Personen und einem Ruderer. Seitlich ziehen die verschatteten Berge hoch, mit silhouettenhaft davorstehenden Tannen und Laubbäumen. Im oberen Zentrum erscheint der Vollmond zwischen den nächtlichen Wolken.

Anmerkung:
Das Gemälde wurde mit entsprechendem Thema in der älteren Ausgabe des Brockhaus Lexikons als Referenz im Artikel des Malers erwähnt.

Provenienz:
Ehemals Sammlung Kern, Hemden. (960521)
This object has been individually compared to the information in the Art Loss Register data bank and is not registered there as stolen or missing.
Votre assistant d'art personnel
Vous voulez être informé quand dans nos prochaines ventes aux enchères une œuvre d'art de Albert Rieger sera proposée? Veuillez activer votre assistant d'art personnel.