Votre assistant d'art personnel
Voulez-vous acheter un objet similaire?
Nous vous informons volontiers si des objets similaire vendus dans une de nos prochaines vente aux enchères.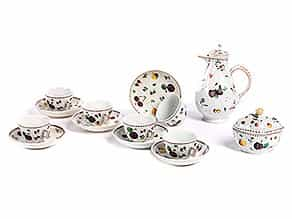 400
Kaffee-Service für sechs Personen
Ungemarkt.
Italien, Doccia/ Ginori, Anfang 19. Jahrhundert.
Prix de catalogue € 4.000 - 5.000 Prix de catalogue€ 4.000 - 5.000 $ 4,320 - 5,400
£ 3,600 - 4,500
元 29,840 - 37,300
₽ 335,040 - 418,800
Bestehend aus einer Kaffeekanne, einer Zuckerdose und sechs Tässchen mit Untertassen. Das Dekor zeigt unterschiedliche Blüten und Früchte, darunter Pflaumen, Erdbeeren und Kirschen, vor weißem Fond. Die Bemalung in Gelb, Rot, Blau, Braun, Grün und Schwarz vor weißem Fond. Deckel der Kaffeekanne rest. und mit Haarriss. Eine Untertasse Bruchrest., vier mit rest. Rand. (9608720)
This object has been individually compared to the information in the Art Loss Register data bank and is not registered there as stolen or missing.
Votre assistant d'art personnel
Vous voulez être informé quand dans nos prochaines ventes aux enchères une œuvre d'art similaire sera proposée? Veuillez activer votre assistant d'art personnel.