Votre assistant d'art personnel
Voulez-vous acheter un objet similaire?
Nous vous informons volontiers si des objets similaire vendus dans une de nos prochaines vente aux enchères.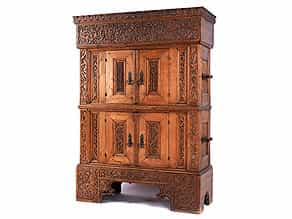 374
Neugotischer Stollenschrank
Höhe: 225 cm.
Breite: ca. 155 cm.
Tiefe: 54 cm.
19. Jahrhundert.
Prix de catalogue € 6.000 - 10.000 Prix de catalogue€ 6.000 - 10.000 $ 6,300 - 10,500
£ 5,400 - 9,000
元 46,080 - 76,800
₽ 611,640 - 1,019,400
Der Aufbau vierteilig. Hoher Fußsockel mit breiten, seitlichen Stollenfeldern und geschweifter mittlerer Öffnung mit einziehenden Lilien, mit floraler Reliefschnitzerei. Darüber zwei gleichförmige Aufsätze, jeweils zweitürig. Die Türen flankiert von leicht vertieften, inneren, schmaleren und vortretenden, breiteren Bändern mit Reliefschnitzerei in Form von Akanthusblattranken im unteren sowie Weinranken im oberen Kastenteil. Die Türen kassettiert mit schmalen, hochrechteckigen Feldern mit Blattranken bzw. Maßwerkdekoration. Der hohe Dachaufsatz nur leicht vorkragend verläuft als breites, durch reiche Reliefschnitzerei dekoriertes Band mit oben abschließendem Zinnenkranz. Aufbau in hellem, massivem Ahornholz. Die Türflächen heller, die reliefgeschnitzten Kassettenfelder etwas dunkler, an den Seiten glatte, schlichte Kassettenvertiefungen, jedoch besetzt mit seitlich je zwei kunstvoll geschmiedeten Tragegriffen in gotischen Zierformen. Beschlagwerk der Türen in Eisenschnitt, mit herzförmigen Henkelzügen. Zwei Schlüssel mit Maßwerkschlüsselringen vorhanden. Die inneren Schlösser in gotischen Formen mit Kapellenabdeckung und zwei Zuhaltungen. Stilreminiszenz an süddeutsche/ alpenländische Vorbilder von denen sich einige Beispiele im Bayerischen Nationalmuseum München befinden. (960071)
This object has been individually compared to the information in the Art Loss Register data bank and is not registered there as stolen or missing.
Votre assistant d'art personnel
Vous voulez être informé quand dans nos prochaines ventes aux enchères une œuvre d'art similaire sera proposée? Veuillez activer votre assistant d'art personnel.