Vente

Argenterie, verres, ivoire, porcelaine
Votre assistant d'art personnel
Voulez-vous acheter un objet similaire?
Nous vous informons volontiers si des objets similaire vendus dans une de nos prochaines vente aux enchères.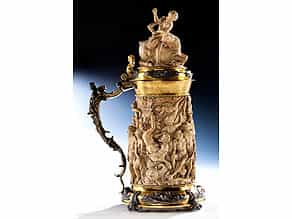 268
Allegorischer Humpen auf den Sieg des Christentums über das Heidentum
Höhe: 49,1 cm.
Bodenseitige Marke: Department of Science and Art / Elkington / VR.
London, um 1880.
Prix de catalogue € 55.000 - 65.000 Prix de catalogue€ 55.000 - 65.000 $ 57,750 - 68,250
£ 49,500 - 58,500
元 422,400 - 499,200
₽ 5,606,700 - 6,626,100
Über vier gegossenen, maskaronartigen Füßen glatter, vergoldeter Wölbfuß mit glattem Boden. Zwischen den hochschwingenden Füßen mit abstrahierter Ornamentik versehen. Eigentlicher Korpus wohl Meerschaumarbeit um einen Metallkorpus. Antikisierende Szene einer Welt im Überfluss mit allerlei bewegten Personen, verschiedenen Sinnlichkeiten nachgehend. Im Hintergrund aus dem Geschehen herausblickend ein älterer Mann (wohl der Auftraggeber) mit seiner Rechten auf ein in eine Nische gesetztes Jesuskind als Christus triumphans deutend. Scharnierdeckel mit abgesetzten fruktalen, silbernen Applikationen, Daumenruh in Form eines Engels sowie J-förmiger, teils figürlicher Henkel. Anstelle eines Daumenknaufs Theseus im Kampf gegen Kentauren. Minimaler Abrieb am Kentaurenfuß der Deckelgruppe sowie feine, geklebte Sprünge. (9516856)


Allegorical tankard showing the victory of Christianity about heathenism
Height: 49.1 cm.
Bottom-side hallmark: Department of Science and Art/ Elkington/ VR.
London, around 1880.
This object has been individually compared to the information in the Art Loss Register data bank and is not registered there as stolen or missing.
Votre assistant d'art personnel
Vous voulez être informé quand dans nos prochaines ventes aux enchères une œuvre d'art similaire sera proposée? Veuillez activer votre assistant d'art personnel.