Votre assistant d'art personnel
Voulez-vous acheter un objet similaire?
Nous vous informons volontiers si des objets similaire vendus dans une de nos prochaines vente aux enchères.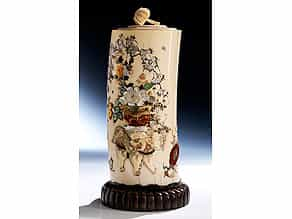 414
Großes Deckelgefäß in Elfenbein "Shibayama"
Gesamthöhe: 75 cm.
Durchmesser: 40 cm.
Japan, 19. Jahrhundert.
Prix de catalogue € 12.000 - 18.000 Prix de catalogue€ 12.000 - 18.000 $ 12,600 - 18,900
£ 10,800 - 16,200
元 92,160 - 138,240
₽ 1,223,280 - 1,834,920
Aus dem breitem Abschnitt eines Elefantenzahns gefertigt, demgemäß leicht nach rechts gebogen, auf geschnitztem Holzfuß. Untere Einfassung in Silber an der Vorder- und Rückseite reich dekoriert, mit applizierten, geschnitzten Reliefelementen, gebildet aus Perlmutt, Horn, Elfenbein und farbig getöntem Bein. An der Vorderseite großer, nach rechts stehender Tempelhund, dessen Kopf nach links gewandt ist, mit rollenden Augen. An der Rückseite im Relief geschnitzte Andeutung eines Ufers mit Wasseroberfläche, darin eine Wildente in dunkelgrauem, bläulich schimmerndem Perlmutt sowie ein hochziehender Blütenzweig mit entsprechenden großen und kleinen Blüten sowie unterschiedlich bräunlichen bis beige gefärbten Blättern, darüber eine fliegende Ente. Der ovale Deckel besetzt mit einem Deckelknauf in Form einer vollplastisch geschnitzten Chrysanthemenblüte. Zugehörig ein reich gestalteter, rot gebeizter, sechskantiger, gefußter Sockel mit Reliefschnitzerei und Elfenbeindekor. Die sechs Füße des Sockels auf umlaufendem Steg. Der Sockel mittig bauchig an sechs Seiten vortretend, die Bauchungen durchbrochen geschnitzt mit Chrysanthemenblüten und Blattwerk. Darüber sechsseitiger, eingezogener Aufsatz mit geschnitzter Galerie mit sechs runden, kurzen Eckpfeilern, die mit gedrehten Elfenbeinaufsätzen mit Kugeln bekrönt sind. (891703)
This object has been individually compared to the information in the Art Loss Register data bank and is not registered there as stolen or missing.
Votre assistant d'art personnel
Vous voulez être informé quand dans nos prochaines ventes aux enchères une œuvre d'art similaire sera proposée? Veuillez activer votre assistant d'art personnel.