Vente

Porcelaine, argenterie, cristal de roche
Votre assistant d'art personnel
Voulez-vous acheter un objet similaire?
Nous vous informons volontiers si des objets similaire vendus dans une de nos prochaines vente aux enchères.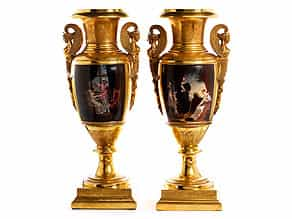 262
Paar imposante, französische Empire-Ziervasen mit Bildthemenbezug zu François Premier (François dem Ersten) von Frankreich
Höhe: 76 cm.
Breite: max. 30 cm.
Sockelseitenlänge: 25 cm.
Ohne Marke, jedoch möglicherweise Sèvres.
Prix de catalogue € 30.000 - 35.000 Prix de catalogue€ 30.000 - 35.000 $ 31,500 - 36,750
£ 27,000 - 31,500
元 230,400 - 268,800
₽ 3,058,200 - 3,567,900
Die Gefäßkörper ovaloid, auf eingezogenem Rundfuß und quadratischer Sockelbasis. Die kappenförmig gewölbte Schulter durch ein Profilband abgesetzt, der Hals zylindrisch nach oben sich weitend mit kräftigem Rand. Seitlich Henkel in Art von Amphorenhenkel mit weiblichen, geflügelten Hermen, deren Unterleib in Blätter einziehend. Seitlich vergoldet, mit Eglomisé-Gravuren, in denen Palmetten- und Blumenfriese eingearbeitet sind. An Vorder- und Rückseite jeweils hochrechteckiges Porzellangemälde. An den Vorderseiten zwischen den beiden Gegenstücken sind Szenen aus den Lebensepisoden des französischen Königs François Premier (1494 - 1547) eingebracht. Die beiden Gemälde gehen wohl auf Ölgemälde zurück; hier wären die Maler Alexandre-Evariste Fragonard (1780 - 1850), Alexandre Menjaud, vor allem aber Alexandre-Marie Colin (1798 - 1875) zu nennen, die sich sämtlich auch mit Themen aus der Zeit und dem Hofleben von François dem Ersten in ihrer Malerei beschäftigt hatten. Dargestellt sind in beiden Bildern jeweils der König mit einer Dame, in einem der Bilder auch mit einem zusätzlichem Berater oder Minister. In einem der Bilder steht der König in der zeitgemäßen Tracht des 16. Jahrhunderts in einem Kabinett vor einem Butzenscheibenfenster und hält die Hand einer auf dem Liegestuhl sitzenden Dame, mit der anderen Hand weist er auf eine Inschrift im Glasfenster mit Aufschrift "Souvent femme varie et bien fol qui s'y fie" ("Die Frauen ändern häufig ihre Meinung und nur ein Narr traut ihren Worten", ein bekannter Spruch der Zeit). Dieser Spruch bezieht sich auch auf ein von Victor Hugo 1832 verfasstes Drama "Le roi s'amuse" (Der König amüsiert sich). Dieses Theaterstück fand am 22. November 1832 in Théâtre Français in Paris seine Uraufführung und thematisierte die amourösen Zustände am absolutistischen Hof des französischen Königs. Zur Zeit der Entstehung der beiden Vasen wird das Theaterstück auch als eine Anspielung auf die Eskapaden des französischen Königs Louis Philippe verstanden. Die beiden Gemälde zeigen sich eindeutig im Charakter einer der Theaterszenenmalerei, wie sie vor allem von dem letztgenannten Künstler Colin geschaffen wurden. Die beiden Prunkvasen in elegantem Entwurf, die Malereien in hoher Porzellanmalerei- Qualität ausgeführt, an der Rückseite jeweils ein großer Blumenstrauß. (931341)


Pair of impressive French Empire vases with illustrated scenes from the life of the French King François I
Height: 76 cm.
This object has been individually compared to the information in the Art Loss Register data bank and is not registered there as stolen or missing.
Votre assistant d'art personnel
Vous voulez être informé quand dans nos prochaines ventes aux enchères une œuvre d'art similaire sera proposée? Veuillez activer votre assistant d'art personnel.