Votre recherche majolika dans la vente
Ceramique

jeudi, 27 juin 2013
Votre assistant d'art personnel
Voulez-vous acheter un objet similaire?
Nous vous informons volontiers si des objets similaire vendus dans une de nos prochaines vente aux enchères.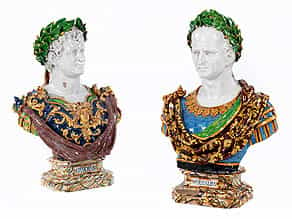 459
Paar imposante Majolika-Büsten,
Angelo Minghetti,
1822 - 1885, zug.
Höhe: 103 cm.
Wohl Bologna, 19. Jahrhundert.
Prix de catalogue € 30.000 - 35.000 Prix de catalogue€ 30.000 - 35.000 $ 29,700 - 34,650
£ 27,000 - 31,500
元 210,600 - 245,699
₽ 1,821,000 - 2,124,500
Die Kolossalbüsten auf rechteckigem, gekehltem Sockel mit abgeschrägten Ecken. Eine Büste mit Namenskartusche auf dem Sockel "Othonus". Dieser trägt einen üppig reliefierten Brustpanzer mit Hermeshaupt und Blattranken. Zu den Schultern reicht eine Draperie, die rechts von einer Adlerkralle gehalten wird. Othonus besitzt ein jugendliches Gesicht, unter dem Lorbeerkranz quillt sein volles Haar in Locken hervor. Der Sockel der anderen Büste ist beschriftet mit "Ser.Galba" (der römische Kaiser Lucius Servius Galba). Dieser trägt einen schlichten Harnisch mit lambrequinartigem Kragen. Eine gemusterte Draperie reicht von Schulter zu Schulter und wird links von einer Spange mit Löwenmaske gehalten. Er blickt streng und wirft die Stirn etwas in Falten. Nur wenig Haar dringt unter dem Lorbeerkranz vervor. Die Bemalung in Mangan, Blau, Gelb und Grün vor weißem Fond. Die Othonus-Büste mit Bruchrest. am Hals, beide Büsten mit Glasurabplatzungen.

Anmerkung:
Büsten von Tiberius, Caligula und Domitian von Minghetti befinden sich im Victoria and Albert Museum, London. Minghetti begann seine Karriere 1848 in Imola, siedelte aber bald nach Bologna über. Bei seinen Büsten ließ er sich von den Arbeiten von Luca della Robbia inspirieren. (930751)


A pair of stately maiolica busts by Angelo Minghetti, 1822 - 1885, attributed
Height: 103 cm.
Probably Bologna, 19th century.

The bases with cartouches reading Othonus and Ser.Galba (the Roman Emperor Lucius Servius Galba).

Notes:
Busts by Tiberius, Caligula and Domitian by Minghetti are held at the V&A, London.
This object has been individually compared to the information in the Art Loss Register data bank and is not registered there as stolen or missing.
Votre assistant d'art personnel
Vous voulez être informé quand dans nos prochaines ventes aux enchères une œuvre d'art similaire sera proposée? Veuillez activer votre assistant d'art personnel.