Votre assistant d'art personnel
Voulez-vous acheter un objet similaire?
Nous vous informons volontiers si des objets similaire vendus dans une de nos prochaines vente aux enchères.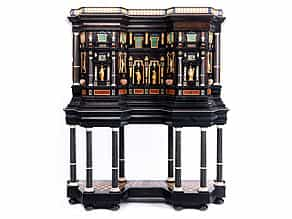 182
Imposanter und seltener Kabinettschrank
Höhe: 192 cm.
Breite: 167 cm.
Tiefe: 58 cm.
Italien, 19. Jahrhundert.
Prix de catalogue € 60.000 - 80.000 Prix de catalogue€ 60.000 - 80.000 $ 64,800 - 86,400
£ 54,000 - 72,000
元 447,600 - 596,800
₽ 5,025,600 - 6,700,800
Nadelholzkorpus, teils geschnitzt in Palisander, Ebenholz u.v.a. furniert, intarsiert und ebonisiert. Beeindruckender Besatz in Lapislazuli, Onyx, Porphyr, diversen Marmorsorten, Bergkristall, vergoldeter und ziselierter Bronze u.v.m.. Auf gedrückten Kugelfüßen der querrechteckige Sockel mit zurückgesetztem Mittelteil, darin Zargenschublade, teilebonisiert und aufwendig in Parallelogrammen intarsiert. Darauf zehn ebonisierte, bandintarsierte Säulen mit Kapitellen und Basen. Darüber reich verzierter, mehrfach getreppter und stark architektonisch gegliederter Kabinettaufsatz, der Form des Sockels folgend. Über der rechten und linken Sockelschublade je eine portalähnliche Tür mit Figurennische, darin vergoldete Bronzefigur vor Eingericht mit je fünf weiteren Schublädchen. Hinter zentraler, doppelter Mitteltür ebenfalls mit Figurennischen und vergoldeten Bronzen fein bemalte, verspiegelte und würfelmarketierte Galerie, eine Theaterbühne imitierend und mit inkludiertem, zusätzlichem, kleinem Kopfschub. Darüber drei weitere Kopfschubladen mit anschließendem, getrepptem Kranz und abschließender Messinggalerie. Rest. Erg. Leichte Alterssch. Originale Schlösser und Schlüssel vorhanden. (881071)

This object has been individually compared to the information in the Art Loss Register data bank and is not registered there as stolen or missing.
Votre assistant d'art personnel
Vous voulez être informé quand dans nos prochaines ventes aux enchères une œuvre d'art similaire sera proposée? Veuillez activer votre assistant d'art personnel.