Votre assistant d'art personnel
Voulez-vous acheter un objet similaire?
Nous vous informons volontiers si des objets similaire vendus dans une de nos prochaines vente aux enchères.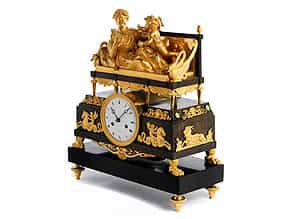 124
Große Empire-Pendeluhr
Höhe: ca. 37 cm.
Breite: 32,5 cm.
Anfang 19. Jahrhundert.
Prix de catalogue € 4.500 - 6.000 Prix de catalogue€ 4.500 - 6.000 $ 4,860 - 6,480
£ 4,050 - 5,400
元 33,570 - 44,760
₽ 376,920 - 502,560
GEHÄUSE
Quadratische Basis über vier gestauchten Kugelfüßen mit Rillenrelief, darüber der auf vier Löwenfüßen stehende Bronzekorpus mit zentralem Zifferblatt, umspielt von Nereiden- und Puttendekor. Die Bekrönung durch eine Amme, auf einem Empire-Sofa liegend und mit einem Kind spielend.

WERK
Achttagegehwerk, Halbstunden- und Stundenschloss, Scheibenschlagwerk auf Glocke, Pendel mit Fadenaufhängung.

FUNKTIONEN
Stunden- und Minutenzeiger, gebläuter Stahl im Breguet-Stil.

ZIFFERBLATT
Email-Zifferblatt mit römischen Ziffern. Über der "6" ortsbezeichnet "à Paris". Ziffernblatt leicht besch.

ZUSTAND
Mit Gebrauchssp. (881075)
This object has been individually compared to the information in the Art Loss Register data bank and is not registered there as stolen or missing.
Votre assistant d'art personnel
Vous voulez être informé quand dans nos prochaines ventes aux enchères une œuvre d'art similaire sera proposée? Veuillez activer votre assistant d'art personnel.