Vente

Tableaux du XVI - XVIII siècle
Votre assistant d'art personnel
Voulez-vous acheter un objet similaire?
Nous vous informons volontiers si des objets similaire vendus dans une de nos prochaines vente aux enchères.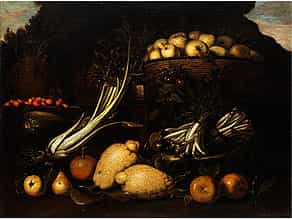 216
Italienischer Meister des Monogramms "SB"
FRUCHT- UND GEMÜSESTILLEBEN UNTER ABENDLICHEM HIMMEL AN EINEM STEINFRAGMENT VOR SCHATTIGEM GEBÜSCH Öl auf Leinwand.
80 x 120 cm.
Prix de catalogue € 90.000 - 95.000 Prix de catalogue€ 90.000 - 95.000 $ 97,200 - 102,600
£ 81,000 - 85,500
元 671,400 - 708,700
₽ 7,538,400 - 7,957,200
Die Gegenstände am profiliert gearbeiteten, antiken Stein in verschiedene Ebenen gebracht. Im Vordergrund, in Nahansicht zentral zwei große Zitrusfrüchte neben Äpfeln und Birnen, daneben ein Selleriestrunk, auf einer ersten Stufe liegen gebündelte Schwarzwurzeln neben dunklen Pflaumen. Weiter höher gestellt rechts ein Bastkorb, gefüllt mit Birnen, links auf einer Steinfläche abgelegte Kirschen, darunter eine Melone, darüber ein brauner Tonkrug mit hochstehender Tülle. Die Gegenstände vor dunklem Hintergrund wirkungsvoll aufgeleuchtet, meisterhaft arrangiert.

Anmerkung:
Zuschreibung an den Monogrammisten durch Prof. Giancarlo Sestieri. (8706437)


An Italian Master with the Monogram "SB"
Oil on canvas.
80 x 120 cm.

Attribution to the monogrammist by Professor Giancarlo Sestieri.
This object has been individually compared to the information in the Art Loss Register data bank and is not registered there as stolen or missing.
Votre assistant d'art personnel
Vous voulez être informé quand dans nos prochaines ventes aux enchères une œuvre d'art similaire sera proposée? Veuillez activer votre assistant d'art personnel.