Votre recherche Gustave Alaux dans la vente
Tableaux du XIX - XX siècle

jeudi, 20 septembre 2012
Votre assistant d'art personnel
Vous êtes intéressé par des œuvres de Gustave Alaux?
Nous vous informons volontiers si les œuvres d'art de Gustave Alaux vendus dans une de nos prochaines vente aux enchères.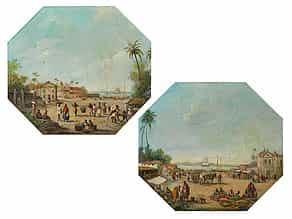 690
Gustave Alaux,
1887 – 1965, zug.
Gemäldepaar
ZWEI KOLONIE-HAFENLANDSCHAFTEN
Prix de catalogue € 4.500 - 5.500 Prix de catalogue€ 4.500 - 5.500 $ 4,455 - 5,445
£ 4,050 - 4,950
元 31,589 - 38,610
₽ 273,150 - 333,850
Öl auf Leinwand.
Je 49 x 54 cm.

Kuba oder Jamaika mit zahlreicher Figurenstaffage. Beide Bilder im Oktogon, jeweils Blick vom Land über Ufergebäude hin zum Strand mit Handels-Segelschiffen auf dem Meerwasser. Im Vordergrund jeweils weiter, sandiger Platz umstellt von Hafengebäuden und Arbeitshütten, auf der Platzfläche zahlreiche Eingeborene bei Transportarbeiten, mit Tragestöcken und Pferdekarren sowie Frauen an großen Körben beim Verkauf von Gemüse und Obst. Zwischen den Häusern hochstehende Palmen. (871295)
This object has been individually compared to the information in the Art Loss Register data bank and is not registered there as stolen or missing.
Votre assistant d'art personnel
Vous voulez être informé quand dans nos prochaines ventes aux enchères une œuvre d'art de Gustave Alaux sera proposée? Veuillez activer votre assistant d'art personnel.