Votre assistant d'art personnel
Voulez-vous acheter un objet similaire?
Nous vous informons volontiers si des objets similaire vendus dans une de nos prochaines vente aux enchères.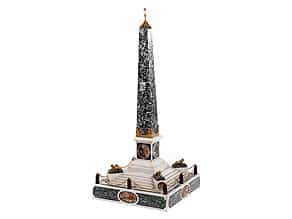 169
Großer höfischer Tafel- oder Zieraufsatz
Höhe: 101 cm.
Seitenlänge: 44 cm.
Italien, erstes Drittel 19. Jahrhundert.
Prix de catalogue € 9.000 - 11.000 Prix de catalogue€ 9.000 - 11.000 $ 9,810 - 11,990
£ 8,100 - 9,900
元 71,190 - 87,010
₽ 854,550 - 1,044,450
In Form eines Obelisken über Marmortreppensockel in Art eines Miniatur-Obeliskendenkmals, möglicherweise als Modell für ein Stadtdenkmal gefertigt. Der Obelisk in schwarz-weiß gesprenkeltem Granit über einem quadratischen Marmorsockel, belegt mit Pietra dura-Arbeit, getragen von einem quadratischen, großen Stufensockel, dessen jeweils fünf Stufen zu allen vier Seiten hochziehen. An den Ecken längsrechteckige Podeste, darauf feuervergoldete, liegende Löwen im ägyptisierenden Stil auf grünen Porphyr-Sockelplatten, die Stufenzone umzogen von insgesamt acht kleinen Abgrenzungspylonen in rotem Porphyr, durch vergoldete Ketten miteinander verbunden. Die Außenwandung des Stufensockels und der Oberrand in Pietra dura belegt mit grünem Marmor, in felderbildende, schwarze Marmorbänder eingelegt, dazwischen querovale Einlagen. Die Spitze des Obelisken besetzt mit einer Zackenkugel, sternförmig gestaltet, mit an den Kanten herabziehenden Akanthusblättern, fein ziseliert, in Bronze und feuervergoldet. Ebenso feuervergoldet die untere Einfassung des Obelisken mit hochziehenden Blättern an den Ecken sowie umlaufendem Perlstab. (8710811)
This object has been individually compared to the information in the Art Loss Register data bank and is not registered there as stolen or missing.
Votre assistant d'art personnel
Vous voulez être informé quand dans nos prochaines ventes aux enchères une œuvre d'art similaire sera proposée? Veuillez activer votre assistant d'art personnel.