Votre assistant d'art personnel
Voulez-vous acheter un objet similaire?
Nous vous informons volontiers si des objets similaire vendus dans une de nos prochaines vente aux enchères.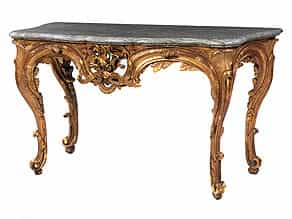 97
Großer Louis XV-Wandkonsoltisch
Höhe: 90 cm.
Breite: 165 cm.
Tiefe: 67 cm.
Frankreich, 18. Jahrhundert.
Prix de catalogue € 12.000 - 15.000 Prix de catalogue€ 12.000 - 15.000 $ 12,600 - 15,750
£ 10,800 - 13,500
元 92,160 - 115,200
₽ 1,223,280 - 1,529,100
Vierbeinig, das Gestell reich mit Unterschneidungen und Durchbrechungen, floral und ornamental beschnitzt, in der Frontzarge große durchbrochene Rokoko-Kartusche mit nahezu vollplastisch geschnitzten Rosenblüten und Blättern. Seitlich im Schwung einziehende Palmblätter. Die Füße nach unten in Voluten einrollend mit hochziehenden Akanthusblättern. An den Seiten entsprechend geschnitzt. Dem Beinverlauf folgende Blattstiele durch Bänder gebündelt. Vergoldung über rotem Bolus, die Marmorplatte grünlich-grau fein geädert mit weißen, durchziehenden Quarzadern, dem geschweiften Verlauf des Gestells folgend, mit feinem Randprofil. (8711011)


A Large Louis XV Wall Console Table
Height: 90 cm.
Width: 165 cm.
Depth: 67 cm.
France, 18th century.
This object has been individually compared to the information in the Art Loss Register data bank and is not registered there as stolen or missing.
Votre assistant d'art personnel
Vous voulez être informé quand dans nos prochaines ventes aux enchères une œuvre d'art similaire sera proposée? Veuillez activer votre assistant d'art personnel.